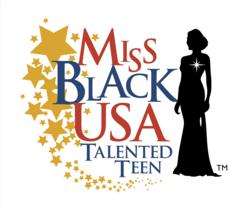 Washington, D.C. (PRWEB) July 10, 2012
The fourth-annual Miss Black USA Talented Teen Pageant on Sunday, August 12 at The Washington Hilton in Washington, D.C. will feature 15 teens competing for a $2,500 college scholarship.
Miss Black USA Talented Teen is the sister organization of Miss Black USA, the premier pageant for women of color. The Miss Black USA Pageant finals are scheduled for Monday, Aug. 13 at 7 p.m. at the University of the District of Columbia in Washington, D.C.
Joelle Polisky, director of public relations for Miss Black USA, said contestants are representing states including Arkansas, Florida, Hawaii, Louisiana, Minnesota, New York, North Carolina, Ohio, Oklahoma, Massachusetts, Oregon, Texas, Georgia, New Jersey and the U.S. Virgin Islands.
The pageant will be hosted by Jasmine Alexis, the first Miss Black USA Talented Teen, a professional ballroom dancer who will be attending U.S. graduate school in Paris in the fall.
Other previous winners include Jasmin Sessoms (North Carolina), the 2011 winner; and Ravel Green (Arizona), the 2010 winner.
On the pageant's website, http://www.missblacktalentedteen.org, people can vote for the 2012 People's Choice Winner, who will be announced during the pageant. Votes are $1 each and there is no limit on the maximum number of votes a contestant may receive or the number of votes one person may cast. Voting ends at 11:59 p.m. on August 11.
Pageant sponsors include The New York Conservatory, the School for Television and Film and Heart & Soul Magazine. Judges include actress and Miss Black USA 2010 Osas Ighodaro, The Honorable Judge Vicky L. Orem, Esq. and international model Silver Fox.
For more information, visit http://www.missblacktalentedteen.org and http://www.facebook.com/MBUSATalentedTeen.