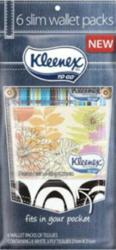 The convenient slim line packs fit 6 full-sized tissues and has a range of 'in vogue' pack designs
(PRWEB) July 11, 2012
Kleenex facial tissues have created a new, slim line tissue package.
Catering to people who do not have the pocket or bag space for a traditional packet of tissues, the sleek Kleenex® Slim Line Wallet has been designed to slip into the pockets of even the skinniest jeans, without stretching the fabric.
The convenient slim line packs fit 6 full-sized tissues and has a range of 'in vogue' pack designs, ranging from autumn floral to neutral denim, making them suitable for any gender or age.
Now there is no excuse not to have a tissue on hand, when needed.
Kleenex® Slim Line Wallets are available in stores now.
®Registered Trademark Kimberly-Clark Worldwide, Inc.© 2012 KCWW
About Kimberly-Clark
Kimberly-Clark is an innovative health and hygiene products company that most Australians come into contact with every day. Major brands Kleenex®, Wondersoft®, Viva®, Thick & Thirsty®, Huggies®, Snugglers®, Poise®, Depend®, Kotex® and [U] by Kotex®.
Kimberly-Clark Australia employs over 1,650 people and has annual sales revenue of approximately $1 billion.