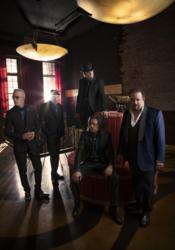 Napa, CA (PRWEB) July 10, 2012
Forget the Grammys, the CMA and ACM Awards for prestigious things like Vocal Group and Album of the Year. Never mind the sold out shows in England's Royal Albert Hall or taking country to places the genre had never been. With a Cuban-American lead singer, garage band ferocity, an intense live show and a deep love of both romance and pure country to go with the polyrhythmic beats the Mavericks were raised on, they were unlikely superstars. Yet, the Mavericks distilled country's essences, bulked them up with a big, raucous sound, then broke ground for the format that saw people from all walks of life, many cultures and some surprising places lining up for hits like "Here Comes The Rain," "Crying Shame," "Dance The Night Away" and "All You Ever Do Is Bring Me Down."
Twenty years later, the little band that could returns, more soulful and innovative than ever. Again drawing on myriad influences – from Buck Owens' tonk to Roy Orbison's heartbreak, Ravel's eroticism to Buena Vista Social Club's infectious rhythms, Patsy Cline's brazen emotion and that little "Mavericks' magic." For their first sessions in almost a decade, it was spontaneous combustion; literally, the band falling into step with the euphoria they were known for. And they built quite an album from there. The Mavericks will release an album on the Valory Music Co. later this fall while a five-song EP titled SUITED UP AND READY becomes available digitally on May 29. The EP will include the band's first single, "Born To Be Blue."
Tickets for The Mavericks are $30. They are on sale now and can be purchased through the theatre website at http://www.uptowntheatrenapa.com, at Ticketmaster (http://www.ticketmaster.com) or at the theatre box office (please call 707.259.0123 ext. 6 for hours). To find out more, please visit http://www.uptowntheatrenapa.com.