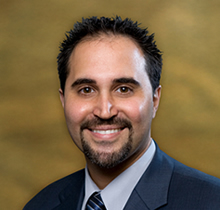 Downey, CA (PRWEB) July 09, 2012
As of July 1, 2012, Dr. Richy Agajanian has become the Chief of Staff after serving two years as the Chief of Staff Elect, preceded by serving two years as Secretary/Treasurer at Downey Regional Medical Center.
Dr. Agajanian is triple board-certified by the American Board of Medical Oncology, The American Board of Hematology, and the American Board of Internal Medicine. Fellowship-trained in Hematology and Oncology at UCLA-Olive View Medical Center/Cedars-Sinai Medical Center, Dr. Agajanian earned his medical degree from the University of California-Irvine College of Medicine and completed his Internal Medicine residency at UCLA. Prior to this, he graduated magna cum laude with a B.S. in Physiology and Neuroscience from the University of California-San Diego, where he received top honors in his department.
Dr. Agajanian has received numerous awards during his educational and professional careers, including induction into Alpha Omega Alpha Honor Medical Society and Phi Beta Kappa Honor Society. He has also researched and published several articles in medical journals on the topic of Hematology and Oncology including treatment of Burkitt Lymphoma, development of a scoring system for myelodysplastic syndromes, and the study of acute chest syndrome.
Dr. Agajanian founded The Oncology of Institute of Hope and Innovation, which is about to celebrate its five-year anniversary as premier cancer treatment centers with nine locations and twelve physicians on staff throughout Southern California.
In addition to being the Chief of Staff at Downey Regional Medical Center, Dr. Agajanian is also the Chairman of the Tumor Board of Beverly Hospital, and also holds professional memberships at the American Society of Clinical Oncology, Medical Oncology Association of Southern California, Armenian American Medical Association, American Society of Hematology, American Medical Association, and Society of General Internal Medicine.
About The Oncology Institute:
The Oncology Institute of Hope and Innovation is committed to providing superior, compassionate and state-of-the-art medical care. Offering programs to help patients and families cope with the challenges that are brought on by cancer and strive to optimize their quality of life, comprehensive and realistic treatment goals are tailored to every person's unique needs and decided upon in partnership with the patients and their families. Dedicated to excel in cancer prevention, diagnosis and education through our exceptional team of physicians, nurse practitioners, nurses, medical assistants and office staff, The Oncology Institute of Hope and Innovation has 9 Southern California locations in the cities of Anaheim, Downey, Glendale, Long Beach, Lynwood, Montebello, Torrance, Santa Ana, and Whittier. For more information please visit http://www.theoncologyinstitute.com.