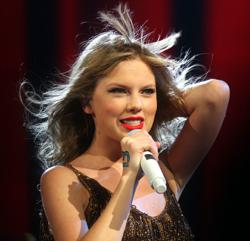 The 2012 iHeart Radio Music Festival will have something for every music lover.
New York, NY (PRWEB) July 09, 2012
Brad Paisley, Jason Adean, Taylor Swift and Bon Jovi are among the superstars who will be performing at the 2nd Annual iHeart Radio Music Festival The long wait is over for the announcement about which artists will be headlining at the 2nd Annual I Heart Music Festival at the MGM Grand in Las Vegas. The Master of Ceremonies, Ryan Seacrest, made the announcement on Monday July 9th that everyone had been waiting for. This announcement told the general public about the star studded guest lineup for the big weekend in September.
The complete list of performers that will be performing live on 9/21 and 9/22 at the I-Heart Radio Music Festival is as follows: Taylor Swift, Aerosmith, Rihanna, Usher, Bon Jovi, Lil Wayne, Green Day, Swedish House Mafia, No Doubt, Brad Paisley, Pit Bull, Deadmau5, Miranda Lambert, Enrique Iglesias, Linkin Park, Jason Aldean, Pink, Mary J. Blige, Calvin Harris and Shakira. It's been quite awhile since some of these A-List performers have been on tour which makes this gala event even more exciting. This concert will cover every genre out there with artists specializing in Rythm & Blues, Rappers, Country Singers, Love Songs, a DJ and more. The iHeart Radio concert in 2011 guest stars included: Steven Tyler, Nicki Minaj, Lady Gaga and Carrie Underwood.
This music festival is also meant to promote Clear Channel's IHeart Radio digital music service which is heard on hundreds of stations nationwide. The two-day concert will also be broadcast live on all affiliated radio stations. CheapConcertTickets.me delivers tickets to sold out concerts and events worldwide when no one else can and they do so at discounted prices. As an affiliate of the Ticket Network Exchange, they can guarantee delivery of tickets on time for sporting events like NASCAR, NBA, NFL AND NHL, and for the hottest theater and concert events too. With CheapConcerttickets.me customer service is a priority, for more information email support(at)cheapconcerttickets(dot)me or visit http://www.cheapconcerttickets.me.