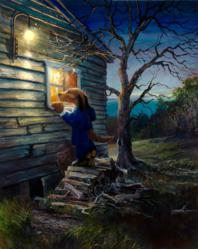 "The Lonely Dog's story has evolved as part of what I call the 'theater of imagination' and what I hope is a loving homage to the age-old art of storytelling," Clarke states. "The opportunity to inspire and stimulate imaginations was irresistible."
Los Angeles, California (PRWEB) July 11, 2012
Imagine a lushly realized universe through which an orphaned "Lonely Dog" journeys and whose destiny is linked to his special gift for rock 'n' roll music, and you have entered the most compelling new world this side of Hogwarts and Middle Earth. That's at the heart of a cascade of multi-media entertainment ventures linked to the recently published book, Alveridgea and the Legend of The Lonely Dog by renowned New Zealand-based artist Ivan Clarke, co-written with Stu Duval, from Atlantic Books (UK) (£16.50, 320 pages, hardcover and e-book).
Clarke, previously best known for his dramatic luminous landscape art, introduced the whimsical world of The Lonely Dog and Alveridgea in 2005 with a series of paintings that have been described as "a mixture of Monet, Bierstadt, Chagall and Dr. Seuss."
The new book is set in the bizarre and beautiful port town of Alveridge, a fascinating place of unique clans and classes — where Felines struggle to maintain the upper hand. Bullied and misunderstood, Lonely Dog became a refugee in his own country. His was a hard scrabble life on the working class side of town, where motorbike gangs mingled with milkmen and everything was faded, including dreams. The story follows Lonely Dog from abandonment at the Houndside Orphanage steps through his emergence as a dapper, pin-stripe suited dog with a message of hope through his music.
In this whimsical world of Alveridgea, where cats and dogs inhabit a segregated society, the pup grows up in what Clarke describes as "… a sophisticated world with twists, metaphors and social parallels." Part poet's journal, part travelogue and almanac, the book weaves an enchanting tapestry of time, place and character like no other — exploring, in the author's words, "outrageous notions and ideologies with a whole range of paranormal ideas…"
Clarke's captivating illustrations, paintings, maps, sketches, and other artifacts became the basis for a limited collector's edition book, a self-described "Almalogue" — more aptly a monumental artwork in its own right — featuring The Lonely Dog that has sold for as much as $60,000. Clarke's paintings spawned a series of stunning limited edition bronze sculptures and figurines created by Sir Richard Taylor of Weta Workshop, groundbreaking Academy Award-winning special effects experts of Lord of the Rings fame.
"The Lonely Dog's story has evolved as part of what I call the 'theater of imagination,' and what I hope is a loving homage to the age-old art of storytelling," Clarke states. "The opportunity to inspire and stimulate imaginations through a host of different media was irresistible, and I'm thrilled to be in the company of artisans and the Lonely Dog team who are helping me deliver this dream."
Along with the new narrative book, The Lonely Dog is also being developed as a feature film, with leading independent producer Jeff Kleeman attached and a screenwriter to be announced shortly. Kleeman adds, "Ivan has created an entire universe, rich with stories and characters that can drive a film and multimedia franchise that is utterly fresh and hugely entertaining. The lead, Lonely Dog, has tremendous multigenerational appeal. You can simply say his name to both adults and children and they light up with curiosity about him. The story is like a 21st century Charles Dickens. Clarke and Duval have woven an epic tale full of twists and turns, adventure and indelible characters. While it takes place in a fantastical world, the emotions and humor are always grounded and relevant to our own lives."
The success of Clarke's creative storytelling and artwork, along with Taylor's bronzes, has in turn provided the springboard for a new line of Lonely Dog merchandise represented by Catalyst Creative Ventures LLC, a prominent licensing agency based in Southern California. Initial licensing efforts for The Lonely Dog will focus on "social expression" products, encompassing a variety of stationery, calendars, journals, greeting and note cards, and gift books to be introduced next year, later moving into fashion and bespoke collectibles. These will be augmented by a series of other products currently in conceptual development at the New Zealand studios.
G. Eric Kuskey, CEO of Catalyst Creative Ventures, said, "The marriage of fine art and clever, sophisticated humor that The Lonely Dog exemplifies makes this a superb property for a wide range of merchandise. Ivan Clarke's world class reputation as a sought-after, established artist underscores the broad appeal embodied by this charming hound."
ABOUT THE ARTIST AND PARTNERS
The Lonely Dog series is a departure for Queenstown-based Clarke, recognized as one of New Zealand's foremost landscape artists. His "accidental" inspiration for The Lonely Dog was his family's pet dachshund, Arthur Snout. In addition to his central Queenstown art gallery, the Lonely Dog gallery in Auckland has recently relocated and doubled in size, reflecting the growing demand for his artwork.
Kleeman is a veteran film and television producer and development executive, holding senior management positions at MGM/UA, Paramount Pictures, Francis Ford Coppola's American Zoetrope, and Robert Redford's Sundance Entertainment Ventures, among others. His broad experience with film franchises includes the James Bond, Star Trek, Pink Panther and Jack Ryan series. Kleeman has also written and produced television for ABC, NBC, Fox and Warners.
Kuskey, recognized as a leading licensing agent and consumer brands expert, has more than 20 years of licensing and branding experience. He oversaw the extraordinary $2 billion in licensed product sales for artist Thomas Kinkade, which represents the second largest art licensing business in the U.S.
Alveridgea and the Legend of The Lonely Dog (ISBN 978-1-84887-332-2) is available now at major bookstores in the U.K., Australia and New Zealand, and through most bookselling sites, including Amazon.co.uk. It is also being printed in Chinese, Italian and other foreign language translations.
The Lonely Dog's website is http://www.lonelydog.com. Entertainment properties are represented worldwide by Patricia V. Mayer, c/o Mitchell Silberberg & Knupp LLP in Los Angeles, CA; pvm(at)msk(dot)com.
###
Media Contact:
Craig Parsons
(310) 472-7632 / (310) 200-4310
parsonscomm(at)aol(dot)com