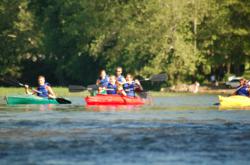 "We think pairing relaxing, refreshing paddling on the Shenandoah river with an introduction to the fantastic world of "Hooch" through a tour and tasting at a new award-winning local distillery makes a perfect summer outing! ~ Natasha Baihly
Knoxville, MD (PRWEB) July 11, 2012
River & Trail Outfitters has teamed up with Bloomery Plantation Distillery, in Charles Town, WV, crafting a fun, festive and flavorful day where participants paddle the mellow, wilderness-surrounded Shenandoah River and then tour a local distillery and taste a variety of their handcrafted limoncello and liquor goodness.
The splash and spirit day kicks off at 11:00 am at Millville, VA with a guided 3-to-7-mile mellow kayak or canoe tour – depending on water levels - down the winding tree-lined Shenandoah River. Nestled in lush wilderness of the picturesque Shenandoah Valley, the river is encircled by the sprawling Blue Ridge Mountains. Deer, otters and beaver are often spotted along and beyond the shoreline, while there are plenty of blue herons, egrets and osprey on the water - and an occasional bald eagle overhead.
Upon arriving at the award-winning Bloomery Plantation Distilllery, thirsty paddlers join a Hooch Guru for a tongue tapping taste of five of the distillery's cordials, such as Original Limoncello, Raspberry Limoncello, Cremma Lemma, Lemon Ice and Dark Chocolate Raspberry liquor, which are paired with sweet treats and "great storytelling."
Following a guided tour of the farm, which is peppered with lemon trees and raspberry shrubs, it's time to chill out in the shady picnic area listening to live music and sipping refreshing ice tea, lemonade or – childhood favorite – a Slushie, which can be spiked with each guest's favorite handcrafted hooch, cost $4. Paddlers will refuel with an Italian nibble feast, prepared by "So Angelina!" that can include an assortment of bruschetta with pepperonata, mini Italian meatballs in gravy, caprese crostini, procuitto wrapped melon, caprese on a stick, Tuscan chicken salad and pepperoni rolls.
"We think pairing relaxing and refreshing paddling on the Shenandoah river with an introduction to the fantastic world of "Hooch" through a tour and tasting at a new award-winning local distillery makes a perfect summer outing! And, what could be more fun than spiked Slushies!" Says Natasha Baihly, who runs River & Trail with her father, Lee Baihly, and other family members.
No prior paddling experience needed, gear, boat and PFD provided. Visit http://www.rivertrail.com for a list of "things to bring" recommendations. Paddle to the Hooch! Tour Dates: Saturdays on July 21, August 25, September 22. Cost: $87 per adult (over 21) + $2 user fee/person.
River & Trail Outfitters of Knoxville, Maryland was founded in 1972 by Lee & Eunsook Baihly, natives of Minnesota and Korea. Lee with his Eagle Scout's experience used his knowledge and love for the outdoors to build a high-quality professional outfitter focusing on safety and excellent customer service. River & Trail is licensed by the Department of Natural Resources and is a member of America Outdoors and Virginia Professional Paddlesports Association. Four decades later, River and Trail remains a family-run operation and full-service outfitter with over one hundred staff offering a wide variety of quality outdoor trips in and outside the Tri-State area. http://www.rivertrail.com