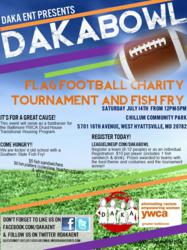 Organized hosts that display teamwork at it's best. I highly recommend experiencing entertainment with DAKA! You will not be disappointed.
Washington, DC (PRWEB) July 10, 2012
On Saturday, July 14, "The DAKA Bowl: Flag Football Charity Tourney and Fish Fry!" will benefit the YWCA's Druid House Transitional Housing Program in West Baltimore, MD. The afternoon is designed for families and individuals to have fun, whether they participate on a team or just purchase the down-home fried fish. It all begins at noon and runs until 5pm, rain or shine, at a public park in Hyattsvile, Md. The fundraiser is organized by DAKA Entertainment and Event Planning, LLP, which was formed in 2004 by four young women who met as freshmen in college and have remained friends. One of the young women volunteered at Druid House before entering medical school at the University of Maryland and wanted to create an event to benefit the program, which will receive half of the proceeds from The DAKA Bowl.
What can you do to help? First, put together a team of eight to 12 players, each of whom pays $10 to participate. The cost includes a fish sandwich and beverage. Persons who want to play but don't have a team can register for a pick-up team. Second, plan to have a good old-fashioned southern fish sandwich for $5 or a fish platter with coleslaw, hushpuppies, and white bread for $8. Drinks include soda, water, and juice.
Third, donate products like bottled water, paper towels, napkins, paper plates, or gift cards DAKA can use to purchase the food. (They also will be the cooks.) Fourth, bring your family and friends, plenty of chairs or blankets, and have a great time while supporting a great cause.
Druid House gives homeless families a safe, supportive environment for up to two years as they develop the life skills necessary for independence. The apartment complex houses 22 mothers, one father, and 46 children.
The DAKA Bowl will be at Chillum Community Park at 5701 16th Avenue, West Hyattsville, 20782. Parking is free, and the park has plenty of activities for children. To register to play, go to http://www.leaguelineup.com/DAKAbowl. To donate items or for general information, call 301-357-9355 or email info@dakaevents.com.