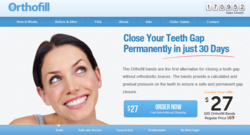 Ottawa, ON (PRWEB) July 10, 2012
Orthofill is a dental care brand in Canada that has helped more than 17,000 clients by providing an alternative to turning teeth gap to gap less smile through orthodontic bands, while eliminating the need for braces. The company sets out to continuously inspire more people with their revolutionary alternative to braces, oral bands.
Orthofill orthodontic bands close gaps on teeth with less intrusion. Developed to provide a quick and permanent solution to teeth gaps or diastema, the product has been proven to repair spaces between teeth all within 30 days.
According to Orthofill's skilled team of dental professionals, "the teeth bands work to put a calculated and gradual pressure on the teeth to ensure a safe and secure gap closure. Orthofill orthodontic bands are safe to use, easy and secure to ensure that snap on smile that everyone loves to have."
Orthofill has inspired confidence and self-worth on people who were once hesitant to show their bright smiles for fear of ridicule. Orthofill testimonials prove that there is a beyond conventional method to closing gaps without the need for braces.
The company offers a 110% Money Back Guarantee providing clients a risk free package. Orthofill values their customers very much that their customer policy explicitly states that "If for any reason you are not completely satisfied you can simply send it back to our mailing address and we will give you a full refund with no questions asked." Orthofill Orthodontic Bands have been featured in Canadian Health, Reader's Digest, New Beauty, AOL Health, Doctor and Best Health Magazine.
Orthofill is the front-runner in the industry and have received hundreds of testimonials all over the globe for their standout results. Since their humble beginnings, they have grown hundredfold. Despite their success, their team of professionals is dedicated to continuously grow and improve their product.
About
Orthofill is a company owned by Clicking Labs, Inc. that started in May 2010.With dedication and perseverance; they were able to bring together a team of multi-talented individuals to provide the world with creative and interesting marketing strategies to drive success to its clients. It has stations in Ontario, Canada and Cebu, Philippines.