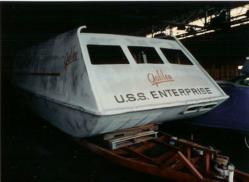 "[Propworx] is honored that we are the new custodians of Galileo and we are excited about having Starfleet as part of the project."
Bangor, Maine (PRWEB) July 11, 2012
The Santa Ana, California-based company Propworx, Inc. recently won an auction for ownership of the Galileo shuttlecraft prop from the original Star Trek television series. The Galileo, named for Galileo Galilei, the 16th and 17th century physicist, mathematician and astronomer, was one of four shuttlecraft carried aboard the fictional U.S.S. Enterprise, the iconic starship in the famous television show Star Trek, which aired from 1966-1969. The prop sold for $61,000.
Restoration of the Galileo to its original state is expected to cost over $100,000 and is being undertaken by a non-profit corporation managed by Propworx. Propworx is a team of experienced movie prop professionals who have done extensive work on science fiction productions such as Battlestar Galactica, Stargate, Iron Man and of course Star Trek, and are self-professed "Star Trek geeks." Founder and CEO Alec Peters is a veteran entrepreneur and was an Ernst & Young Entrepreneur of the Year award winner in 2004. He is one of the top collectors of Star Trek props and costumes, and his blog http://startrekauction.blogspot.com is one of the leading sites for information on collecting Star Trek props. Peters promises Star Trek fans that this project will restore the Galileo in the most professional and accurate way possible, and plans are to make the ship available for fans to see and tour the Galileo for the 50th Anniversary of Star Trek. Eventually Peters hopes to find a permanent home for it in a museum that will guarantee it is always available for public viewing in a safe, indoor environment. "Adam [partner in the restoration project] and I are honored that we are the new custodians of Galileo and we are excited about having Starfleet as part of the project. We hope Starfleet will be able to mobilize its huge fan base to help when the time comes," said Peters.
The Galileo was partially restored in 1991. A private owner from Akron, Ohio purchased and shipped the prop from a desert storage lot in Palm Springs, California to an aircraft hanger in Akron. Peters was hired by the owner to recondition Galileo—mainly just painting and lettering—before he had seen the actual state of the prop. Upon inspection, it was clear that a total restoration was necessary. It had been stored outside since its release from the studio many years earlier and time, weather and abuse had taken its toll on the mostly wooden prop. It was apparent that several previous restorations had been attempted but were mainly cosmetic. However, by September 1993, the two-man restoration team was exhausted and the owner was short on funds. The Galileo was brought back to about 85% of its original condition, but Peters and his partner parted company with the owner when discussions were entered with another party interested in purchasing Galileo and finishing off the project. A complete restoration has never occurred since then.
Doug Drexler, Academy-award winning designer and Emmy-award winner for his work on Battlestar Galactica (also nominated for two Emmys for his work on Star Trek: The Next Generation) had this to say about the Galileo restoration project: "Star Trek has inspired young people to become scientists, astronauts, explorers, inventors, writers, and human beings…This larger-than-life artifact is a relic of Hollywood, a relic of the space age, a relic of aviation, and a relic of automotive design. This survivor is a tangible part of something of social significance, and it deserves to be preserved for future generations…Thank you STARFLEET for getting behind this project."
STARFLEET, the world's oldest and largest Star Trek fan organization, has now joined the effort to restore Galileo, and is helping to raise funds so that when the project is completed, current and future fans can enjoy it for years to come. "Personally, I think that this is a great opportunity to see a piece of television history restored to it's original glory, and I'm really glad that STARFLEET is being given this opportunity to be a part of this project, and hopefully to become at least a small part of television nostalgia," said Dave Blaser, President of STARFLEET International.
For more information about the Galileo Restoration Project, fans can visit http://galileorestoration.com
ABOUT STARFLEET
STARFLEET, The International Star Trek Fan Association, Inc. is an organization of over 4,400 Star Trek™ and science fiction enthusiasts that have united the world of fandom in their appreciation of Star Trek™, the greatest human adventure. Founded in 1974, STARFLEET has operated continuously for 35 years, making it the oldest Star Trek™ fan association of its size in the world. This unique organization has over 225 chapters globally, linking members from one corner of the Earth to the other both in person and through the Internet. STARFLEET is made up of people of all ages and from all walks of life who have come together to make new friends, share an interest in Star Trek™, science fiction and space, and to serve their local communities.
For more information on STARFLEET, please visit http://www.sfi.org or call 1-888-SFI-TREK.
Press Contact: Brandt Heatherington, pr(at)sfi(dot)org, 703-659-7194