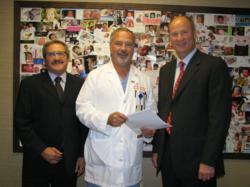 We were impressed with MED3OOO as an organization and see them as a solid business partner.
Pittsburgh, PA (PRWEB) July 10, 2012
MED3OOO, a national leader in healthcare management and technology products and services, announced today that Memphis Obstetrics & Gynecological Association (MOGA) in Memphis, TN, has selected InteGreat EHR for its 24-provider practice.
"We selected InteGreat EHR after evaluating many different EHR products over the past few years," said Robert Burns, CEO of Symbion Physician Services. (Symbion serves as the management company for MOGA.) "Our physicians really liked the Quippe™ functionality for documentation and believe it will streamline the charting process. I've been looking for an intuitive EHR with the flexibility to closely emulate how they chart today, and Quippe™ delivers that. We were also impressed with MED3OOO as an organization and see them as a solid business partner."
MOGA physicians have provided women's care to the greater Memphis area since 1985. Today, MOGA has four locations and is staffed by twenty physicians and four nurse practitioners who offer health services to women from puberty to later life.
"Memphis Obstetrics & Gynecological Association is one of the most prestigious women's groups in the region," said Scott Sanner, Executive Vice President of MED3OOO. "We are pleased by their selection of InteGreat EHR and look forward to helping the physicians and staff to use our solution to enhance patient care."
About InteGreat
InteGreat EHR solution is an innovative, flexible, and easy-to-use electronic health record. InteGreat EHR is utilized by over 13,000 users to improve clinical and operational outcomes. It adapts to clinical workflows with the highest degree of physician adoption by automating common physician activities, such as e-prescribing, capturing charges, ordering lab tests, viewing results, and documenting clinical encounters. InteGreat EHR V6.4 is ONC-ATCB 2011/2012 certified to support Meaningful Use; v.6.5 is also certified in CCHIT's separate program and is a pre-market CCHIT Certified® 2011 Ambulatory EHR additionally certified for Child Health.
InteGreat PM seamlessly integrates with payers and the InteGreat EHR solution for a powerful, unified system that helps physician practices improve clinical, financial, and operational outcomes. The ASP model makes the product affordable and easy to maintain. The browser-based practice management solution is affordable and enhances practice productivity with streamlined appointment scheduling, patient-centered demographics registration, accounting solutions, and financial reporting.
About MED3OOO
MED3OOO is a leading provider of healthcare management and technology services that improve outcomes for providers, health plans, and the patients and employees they serve. The Company provides a broad array of proprietary solutions for physician groups, hospitals, health systems, health risk organizations, and state and local municipalities, enabling them to reach their maximum potential with respect to operational, financial, and clinical results. Through the integrated application of systems, operations, analytics and domain expertise, MED3OOO serves as the premier strategic operations partner for the healthcare community. The Company's depth of knowledge across its services, economies of scale, infrastructure, and ability to offer and manage disparate information systems provide MED3OOO with a distinct competitive advantage in the rapidly evolving healthcare industry. Each of the components of MED3OOO's product and services suite is a critical competency for moving toward the delivery of accountable care.
For more information visit http://www.MED3000.com or Nicole_Contardo(at)MED3000(dot)com.
About Symbion Physician Services
Symbion Physician Services is a medical practice management company located in Memphis, TN. Symbion works with both start-up and existing physician practices to provide customized management and consulting services, which may include billing, HR management, IT support, accounting, payroll, and accounts payable. Clients of Symbion include Memphis Obstetrics and Gynecological Association (MOGA) and Mid-South Maternal Fetal Medicine, among others. For more information on the services of Symbion call (901) 255-5221 or visit them on the web at http://www.spsmemphis.com.