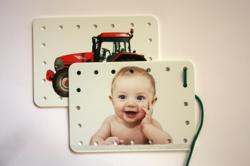 "I love how the MindStart activity products can be used for all levels of dementia."
-Katie, Recreation Professional
Minneapolis, MN (PRWEB) July 10, 2012
Today 5.4 million Americans are living with Alzheimer's disease or other forms of dementia. The abilities of these individuals gradually decline as the disease progresses making everyday activities difficult to do. For example, declines in memory, difficulty with solving problems and completing multi-step tasks are seen. However, abilities do not all decline at the same rate. There are skills that are retained longer into the disease process, such as talking and doing tasks with repetitive steps. Alzheimer activities, such as MindStart's Look and Lace card set, capitalize on these remaining strengths and provide important cognitive stimulation, engagement, connections, and joy.
The MindStart Look and Lace card set includes 4 different cards and 4 different colored laces. The cards are durable and washable with holes around the perimeter of the cards. Each card depicts a different captivating photo image, enticing a response from the user. The images are based on themes of adult life - a baby, a tractor, an apple, and a dog. The laces are brightly colored and have plastic tips to allow easier lacing into the holes on the cards.
The set also includes a user guide, helping caregivers to adapt the activity for people who have varying levels of cognitive abilities. It explains how the set can be used with individuals with mild, moderate, or extensive deficits due to dementia.
Look and Lace cards can be 'sewn' with the laces going in and out of the holes, putting a stitched frame around the picture that is in the middle. It is a repetitive activity that individuals into the later stages of dementia can still complete. It encourages eye-hand coordination, fine motor skills using the fingers to manipulate the lace, and mental attention as the person moves from one hole to the next.
The images on the cards can be used to trigger memories and conversation. Or they can be a starter to creating a story, for example a story about the dog. The user guide also gives ways to use the cards in a trivia game. The MindStart Look and Lace card set is a cost-effective Alzheimer's activity that is durable, affordable, has multiple uses, and can be modified for different stages of dementia.
The cards can be a good choice of activities for the elderly not affected by dementia, as well. It offers a good sewing task for those who can no longer handle a traditional needle and thread, due to arthritis, incoordination of the hands, or poor vision.
MindStart is a small, family owned business, started by an occupational therapist to help people with Alzheimer's or other dementias keep active and doing things for as long as possible, while providing support and education for caregivers. MindStart works with dementia care experts and USA companies to design and manufacture adapted, yet dignified, dementia activities that are based on common hobbies and themes of everyday life and that provide cognitive stimulation for every stage of the disease process. Learn more about keeping people with dementia active at http://www.mind-start.com