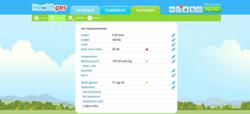 "Allow your product to speak for you." says John Hammitt
Princeton, NJ (PRWEB) July 10, 2012
The "My Health" portal was introduced on June 25, 2012 and has seen quite a bit of traffic from Healthper members. The add-on is free and participants are encouraged to use this newest section. In addition to the healthy gaming and social interaction Healthper members utilize daily, the new "My Health" tool will allow members to manage their personal health information while tracking their total wellness goals, all in one place! "My Health" is the perfect complement to the already growing solution Healthper has in place. Members can truly customize their experience on the site and mobile application to fit their lifestyle and needs.
Narinder Makin, Chief Technology Officer and Co-Founder at Healthper states, "The concept is simple. Members use their existing Healthper.com or co-branded corporate account to log-in and the new "My Health" tab appears. To ensure the highest level of security, we have placed a unique secondary password that must be applied each time a member accesses the "My Health" portal. These features create a wall of security and member confidence." Basic information is pre-populated by way of self managed profiles and daily card play. These include but are not limited to, height, weight, smoking statistics, alcohol consumption and more. In addition to self reporting, Healthper monitors individual game play and alerts members to "out-of-range" metrics. Furthermore, members can track their cholesterol including, LDL, HDL, their BMI (Body Mass Index), heart rate, blood glucose, medications, surgeries and any ongoing medical issues or infectious diseases that have occurred. The history section allows members to not only keep track of their test results including x-rays and scans but to also list their family history and in-turn understand patterns.
Each section of the "My Health" portal is designed to educate members with brief but informational content. "We want our members to understand the importance of having their cholesterol checked at least once a year. Get them informed, get them talking! How can having a high BMI raise your risk of Type 2 diabetes and in general affect your overall health? These are the questions we want them to ponder." says Jaime Fiorello, Director of Merchant Partnerships and Customer Relations.
About Healthper
Healthper is an innovative health engagement platform, founded in 2010 and developed by the team from CareGain that helped facilitate Health Savings Accounts. Healthper helps drive sustainable long term behavioral changes through its enterprise-ready health engagement platform. Healthper is a privately held company based in Princeton, NJ. For more information, please visit: http://www.healthper.com or you may follow us on twitter @healthper