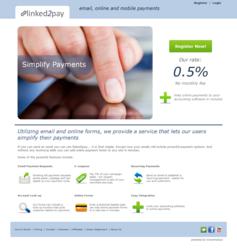 linked2pay can be a game changer for businesses and organizations that want access to improved payment processing but do not want to engage in a 'project' or significant expense.
Oxnard, CA (PRWEB) July 10, 2012
transmodus, the company whose platform powers linked2pay, today announced the release of a new version of the online payment solution for the processing of credit card and e-checks transactions.
Business owners can now simplify the initiation of custom-fit online payment processing with the option to create an automated connection to their existing accounting software, including the widely used QuickBooks software by Intuit.
Using linked2pay a business can:

Start accepting online payments (credit card and e-check) within minutes of service activation
Quickly and easily design their own payment forms that include the fields they require
Set an end date for payment prior to the automatic inclusion of late fees
Alert customers with a text message when their bill or invoice is posted online
Use linked2pay emails to provide customers with an easy paperless payment method
Process with the security and compliance provided by the linked2pay platform
Run custom reports or integrate into your system to keep your accounts receivable in order
An October 2010 survey from the National Small Business Association (NSBA) found that 84 percent of small business owners surveyed have a website. Using linked2pay those businesses can now add simplified online payments to their website in minutes with no technical aptitude required, thus adding another online payment processing platform option other than PayPal, often even saving business owners money with lower processing fees. The linked2pay features apply to a wide range of business and organization types that include building and industrial supplies, healthcare, lawyers, accounting professionals, clubs, property managers, churches, schools and any service-oriented business.
"I constantly adopt new technology to improve my legal practice, and linked2pay has been an excellent addition. It is fully integrated and included with my merchant bank services, creating a seamless transition from my old merchant bank. Setup was simple and straightforward and completed quickly. Linked2pay allows me to accept credit cards and e-checks. I am able to create my own online payment forms using linked2pay's 'form builder,' and I can include a link to that form on my emailed invoices. I highly recommend linked2pay for online payment processing," says Robert W. Olson, Jr., a Professional Corporation, Attorney & Counselor at Law, Santa Barbara, California.
The linked2pay service by transmodus is a cloud-based virtual terminal offering resellers and their merchants a simple online boarding process. Transmodus is actively recruiting resellers by providing them with the option to easily augment the current payment solutions they already provide a merchant.
"Solutions like linked2pay can be game changers for businesses and organizations that want access to improved payment processing but do not want to engage in a 'project' or significant expense. Once a client is registered for linked2pay they can begin to leverage the service immediately even if they are complete novices technically," added Jay McShirley, CEO of transmodus.
The robust linked2pay payment processing solution fully leverages the transmodus online system for payments and collections, built by over a decade of technical development and utilized by several large companies nationwide, including Heartland Payment Systems. Today the transmodus platform provides service for thousands of clients processing billions of dollars in annual transactions.
"Our company started with a clean slate to review and select online payment options for our communities. After our review we chose the linked2pay solution powered by transmodus. The reason was that it is a simple and complete solution for us and for our homeowners. It has all the features you would expect including one-time or recurring payments, but the difference is how simple it makes it for everyone. For example, we can reconcile our payments in minutes. Also, by making ACH (e-check) payments this easy, it saves us and our homeowners a great deal of money because there are no interchange fees! Their customer service is exceptional, so if you take a look at linked2pay you will see why we are so happy," as stated by Thomas Denzler GRI, CMCA of Joyner Community Solutions, Richmond, Virginia.
transmodus is connected for transaction processing with many of the top 25 US banks for RDC and ACH. And our PCI compliant virtual terminal connects via TSYS, Authorize.Net and other leading card processors.
A demo site for linked2pay is provided to give businesses and organization a better idea of how they can leverage the service quickly and effectively.
Any business that is interested in accessing the do-it-yourself demo should visit:
http://transmodushub.net/linked2pay/index.html
Or register for a free webinar demonstrated the system's capabilities at:
http://transmodushub.net/linked2pay/demos.html.
About transmodus
transmodus provides an on-demand solutions platform that delivers check and ACH services automation. The company provides a complete processing platform solution for clients, collection agencies and bank partners. transmodus has positioned itself as an industry leader by listening carefully to the needs of business owners, thinking ahead with integrated technologies and moving forward with clear purpose to provide clients and processing partners access to the best on-demand processing solutions.
For more information please visit http://transmodus.net
Forward-looking Statements: This press release may contain statements of a forward-looking nature that represent our management's beliefs and assumptions concerning future events. Forward-looking statements involve risks, uncertainties and assumptions and are based on information currently available to us. Actual results may differ materially from those expressed in the forward-looking statements due to many factors. We undertake no obligation to update any forward-looking statements to reflect events or circumstances that may arise after the date of this release.