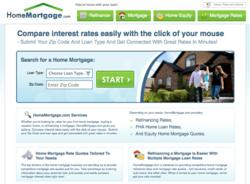 Delray Beach, Florida (PRWEB) July 10, 2012
BankAds, which owns many premier properties in the banking and deposit space and made recent headlines for acquisitions in the credit card industry, has just announced that it has signed a deal to acquire HomeMortgage.com.
The deal has been in the works for a couple months, according to BankAds Co-Founder Sean Sullivan. Just last week, HomeMortgage.com re-launched with an entirely new design and mortgage quote solution for consumers. The sale price and/or financial terms of the deal were not disclosed, but it has been described as a major win for both BankAds and the current owner of HomeMortgage.com.
BankAds has been looking for a generic domain in the mortgage space for some time, says Sullivan. "HomeMortgage.com is an incredible opportunity for our company to expand into the consumer mortgage space. We feel that as the economy moves forward and banks begin to free up more capital for homeowners and first-time home buyers, our company will be a in a great position to capitalize on these trends. Our goal is to create a content and information driven site that consumers will connect with. Our mortgage quote process couldn't be any more user friendly, and we feel that our current editorial staff will be able to educate our site visitors, effectively helping them to make better decisions regarding their mortgages, all while saving thousands of dollars in the process."
According to Sullivan, the website will soon feature budgeting tools and mortgage calculators and will also provide consumers with the ability to check their credit score for free.
BankAds is a financial services information company similar in some ways to companies such as: BankRate, Experian, Intuit or QuinStreet. BankAds seemed to emerge from out of nowhere in March of this year, being led by Sean Sullivan, a veteran of the online advertising industry and domain channel, and Brian Styles, a veteran of the enterprise software industry who last sold his company to Quest Software in 2007.
It is surprising that, in such a short period of time, BankAds has been able to acquire and now controls some of the most important pieces of internet real estate in the world. Some of their sites include; CheckingAccount.com, CreditCards.net, OnlineBanks.com, CreditCards.us, MoneyMarketAccount.net, GoldBullion.com as well as having a significant position in the business incorporation space with LLC.net, LLC.org, Scorporation.net and CCorporation.net.
When asked why BankAds has such a large presence in the incorporation space, which is dominated by the likes of LegalZoom and Incorporate.com Sullivan said the following, "It's pretty simple, every new business needs three things immediately once they incorporate: a business bank account, a credit card issued in the name of the company and insurance. BankAds has products and services for all of those specific needs."
BankAds is based out of Delray Beach, Florida