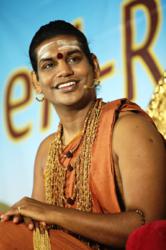 In Nithyananda Dhyanapeetam Sampradaya (tradition), you are expected to respect all gurus, all deities, from all traditions. Our devotees have no right to disrespect any religion, any spiritual order.
Los Angeles, CA (PRWEB) July 10, 2012
Day 5 at 21 Day Inner Awakening Retreat, India:
Question: "Is there really something like 'blind faith', or do we all have a divine inner voice guiding us towards whatever is best for us? How can I know whether I am caught in blind faith, or guided by intuition?"
In response, Paramahamsa Nithyananda said, "Having faith in the 3 D of the society - depression, drugs, death(suicide) is Blind Faith. People having faith that being depressed about a situation or resorting to drugs and suicide as solution to any problem are the ones who are having blind faith.
Having faith in an enlightened Master, his teachings and mission, (even it is seems like it is against main stream societal conditioning) it is not blind faith. If one has faith in the inner world, it is always through the divine inner voice.
Having faith in everything that the group of unconscious, socially irresponsible media projects is blind faith."
In answer to another question, Paramahamsa Nithyananda gave a message for all followers of Nithyananda Dhyanapeetam Sampradaya (tradition) to respect all religions, all deities and all traditions.
Paramahamsa Nithyananda said, "Even if one considers someone as lowest level tradition in crudest form, they have to be respected because as Sri Krishna says, every path leads to the Divine.
The feeling connection may be with one Master but that does not give the right to disrespect any other tradition or Masters from any other spiritual order nor does one have the right to force the same feeling on the others."
More information on Paramahamsa's revelations on Kundalini Awakening and the scientific research can be found at http://innerawakening.org/researchonkundaliniawakening
Contact:The Life Bliss Foundation
1- 909 - 625 -1400 / info(at)lifebliss(dot)org
ABOUT HIS HOLINESS PARAMAHAMSA NITHYANANDA:
Videos on Enlightenment Science:
http://www.youtube.com/watch?v=ty1DtDKt-08&feature=plcp
Inner Awakening videos
http://www.youtube.com/playlist?list=PLD5E80C03E360B2F8&feature=plpp
Paramahamsa Nithyananda is not only one of the most watched Spiritual Guru on YouTube, he is ranked as one of the world's 100 most spiritually influential personalities. He has recently inherited the world's oldest and most ancient Hindu Spiritual Organization – the Madurai Aadheenam, by being coronated as the 293rd pontiff of Madurai Aadheenam.
Paramahamsa Nithyananda is a global leader in yoga, meditation, kundalini awakening enlightenment science. Clear, dynamic and modern in approach, Nithyananda's teachings have already transformed 15 million followers in 150 countries with the fastest growing spiritual community around the youngest incarnation.
Paramahamsa Nithyananda remains always grateful to the spiritual masters and the rich spiritual heritage of India which made it possible for him to learn and practice these timeless spiritual truths. Wishing to share his spiritual understanding with others and dedicate his life to the service of humanity, he entered into the public life and set up his spiritual organization, to reveal to the world, the science and benefits of our ancient mystical yogic tradition and disciplines.