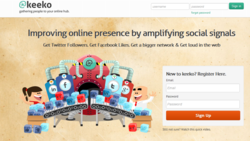 Ottawa, ON (PRWEB) July 10, 2012
With thousands of users, Keeko is the latest entity to join the social sharing platform online. It helps individuals, businesses, organizations and public figures to grow their online network by improving their LinkedIn network, getting more Facebook likes, Twitter followers, and Google +1s within the fast growing Keeko social community.
Clicking Labs, the company that owns and manages Keeko, has been continuously working to improve their website for better user experience. With this, they have announced the release of their latest updates and brand-new features on their site which include a more polished web lay-out that feature easy access tabs and a tiled display of other people's accounts for more convenience. "We're very excited to introduce the changes we've made, as we've made the site more navigable for our users," says Diana Quartin, Creative Director for Clicking Labs.
Users can continue to increase their social reach on Facebook, Twitter and other media with an overhauled dashboard that shows them a summary of their social media statistics all in one sweep. They can monitor points, track referrals and add social media platforms within a single dashboard.
In addition, more options for categories are available for all pages, tweets and other social accounts that users want to add. Classifications include business, health, food, music, and many others. Other social accounts that they want to follow can now also be classified using the same categories. This makes it easier for users to like and follow social accounts related to their personal interests. As of yet, Keeko supports the following networks: Facebook, Facebook Share, Twitter, Retweet, LinkedIn and Google Plus.
To join the Keeko community, one can easily get started on creating an account by visiting their website. As soon as an account has been made, one can start earning points by following, liking and sharing posts and other content. Users can redeem those points in the form of more Twitter followers on their roll, and getting more Facebook likes, among others.
For more information about Keeko and their latest updates and promotions, follow them on Facebook and Twitter.
Gather people to your online hubs by visiting http://www.keeko.com and start growing your network.
About Keeko
Keeko is a wholly owned company by Clicking Labs. With dedication and perseverance they were able to bring together a diverse team of web professionals to provide internet businesses with creative web marketing strategies. Founded in Ottawa, Canada, the company has expanded operations to Cebu, Philippines in early 2011 to better serve its clients.