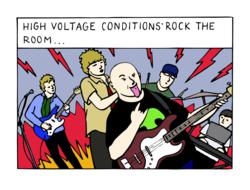 "Somehow I think our characters are more attuned to comic books than 'Cold Play', not to take anything away from both our musical ambitions. We all rock!" Rory Burnside
(PRWEB UK) 12 July 2012
Australian rock band Rudely Interrupted Continue European EP release Tour with shows in Germany and the UK July 7th – 20th 2012
'Mystery Girl' is the new EP and the group's sound has carried them the world over. Rudely Interrupted are one of the world's most celebrated musical 'Outsider Artists' and have overcome many prejudices to write, record and produce their remarkable 2nd EP 'Mystery Girl'.
Rudely Interrupted are about to release a groundbreaking comic book App to be available from iTunes worldwide in October 2012. See images on Facebook
The tour kicked off Saturday July 7th at Neuerkerode in Germany for the 'Rock an der Wabe' festival in Germany, sold out in Lingen and wraps up on July 20th at the Bull & Gate, Kentish Town Rd, London UK.
The 'Mystery Girl' EP is available now on iTunes!
Download free this week only, No Goodbyes is the leading single, Rory Burnside has a quest for love and companionship, hear it here.
RI's film clip won a Cannes Award for 'Close My Eyes' and made top 20 in Luxembourg in Aug 2011, their documentary was nominated for AFI Award and they continue to seriously impress the music world globally.
Germany
12/07/12 Hanover The Stephanstift
14/07/12 Gifhorn Kästorf
United Kingdom
20/07/12 London Bull And Gate
389 Kentish Town Road London NW5 2TJ, UK.
For interviews please contact IH Entertainment:
Contact – rohan(at)rudelyinterrupted(dot)com +61 411 132 442