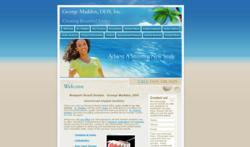 Great team. I am a new patient and was nervous leaving my Dentist of many years. Dr. Maddox and his team are however the best, and made me feel comfortable and welcome my very first visit. I wish that I had found them sooner. The office is really nice
Newport Beach, CA (PRWEB) July 11, 2012
Representatives for Unique Web Consulting announced today the completion of a website update for one of their clients, Dr. George Maddox, a Newport Beach cosmetic dentist, with an expanded services offering. The doctor performs teeth cleaning and prevention, cosmetic dentistry, restorations, orthodontics and periodontics including a number of other services at reasonable prices.
The Newport Beach dentist is excited about the newly updated website which will serve the clinic's clients as a resource center for performing research on the different types of dental procedures. Anyone who is considering undergoing cosmetic dental work will benefit from the extensive collection of videos and publications on the website which are informative and educational.
"Great team. I am a new patient and was nervous leaving my Dentist of many years. Dr. Maddox and his team are however the best, and made me feel comfortable and welcome my very first visit. I wish that I had found them sooner. The office is really nice and in a great location". - Anonymous
The videos are grouped into various categories such as Newport Beach dental implants, examines and hygiene, periodontics, endodontics, oral surgery and crowns and bridges. The categories provide quicker access so website visitors can focus on the topic that's of interest to them at the moment. After viewing a video the user will have an option to share it with friends via an email link which is a plus for people who are performing research on different websites.
The updated website meets the overall goal of the Newport Beach Dental office by providing quality information not only about the clinic but also about other options of dental treatments which are available to patients. Each video and article on the website has been approved by the clinic's management team as being helpful and informative for patients and website visitors.
About
When you visit our Newport Beach dental office, your smile is our top priority. Dr. Maddox and his entire team are dedicated to providing you with the personalized, quality dental care that you deserve. Dr. George Maddox has been providing comprehensive dental care to Orange County for over 30 years.
Contact
Dr. George Maddox
320 Superior Ave.
Suite 100
Newport Beach, CA 92663
Phone: (949) 548-5029
Website: http://www.drmaddox.com/