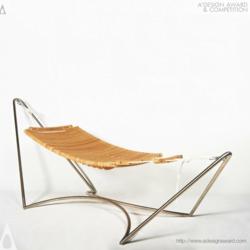 Como, Italy (PRWEB) July 10, 2012
A' Award and Competitions are encouraged to announce that the design Seóra by has been acknowledged with the famous Golden A' Design Award at Furniture, Decorative Items and Homeware Design Competition chosen as a winner by the esteemed referees of the A' Design Awards & Competitions within a great number of nominations.
Insights on Seóra
Anthony Logothetis, the creative mind behind the winning work Seóra explains "Seóra is made from high quality Birch marine plywood and stainless steel. It's unique design and aesthetic appearance provides you with your ultimate hammock experience as Seóra takes the shape of your body allowing you to relax in a correct posture without slouching (unlike conventional hammocks with net and fabric do). Seora's distinctive stand made from stainless steel can be disassembled into three pieces for easy storage. Integrated armrests open when needed and the footrest can be adjusted according to your height for ideal comfort. " Learn more about this design: http://www.adesignaward.com/design.php?ID=24156
The Golden A' Design Award
The Golden A' Design Award is a prestigious award given to top 3% percentile designs that has delivered an exemplary level of quality in design. The designs are judged by a panel of three different jury which is composed of Academic, Professional and Focus Group Members. The designs are evaluated with score normalization to remove any biases and are voted on aspects such as functionality, ergonomics, engineering, presentation, innovation, usability, fun details, technology, and any other specific points that could be considered, each of these points are further weighted for different jury groups.
About A' Design Award and Competitions
A'Design Award and Competitions, aims to highlight the excellent qualifications of best designs, design concepts and design oriented products. A' Design Award and Competitions are organized and awarded annually and internationally in multiple categories to reach a wide, design-oriented audience. To learn more visit: http://www.whatisadesignaward.com