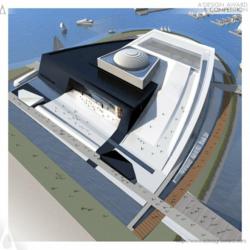 Como, Italy (PRWEB) July 12, 2012
A' Award and Competitions are proud to tell that the design Busan Opera House by Office 25 Architects has been honored with the famous Silver A' Design Award in Architecture, Building and Structure Design Category chosen as the winner by the international referees of the A' Design Awards & Competitions among numerous works.
Concerning Busan Opera House
Antonis Perpatidis, the creator of the winning project Busan Opera House demonstrates "The opera is designed to connect the sea and dry land. A reminder of sea waves but mountain slopes as well. It is the boundary between the two elements. The building functions as a performing arts center. It is a shell that will shelter all the facilities that constitute an opera. The services are placed beneath a huge "umbrella", organized in order to function. Both the auditoria are designed to house high-class events and the associated auxiliary spaces are capable to host smaller art events. The single shell idea is ecologically friendly as it allows it to function as a sustainable entity." To learn more visit: http://www.adesignaward.com/design.php?ID=25304
Design Team for Busan Opera House
Busan Opera House was concieved by Antonis Perpatidis, Thanasis Chrysomallis, Manolis Vourakis, Vasilis Nikolopoulos, Ariadni Parisi, Tania Tzima, Nantia Stamou and Katerina Rapti.
The Silver A' Design Award
The Silver A' Design Award is a prestigious award given to top 5% percentile designs that has carried out an exemplary level of sublimity in design. The designs are judged by a panel of three different jury which is composed of academic, professional and focus group members. The designs are evaluated with score normalization to remove any biases and are voted on aspects such as functionality, ergonomics, engineering, presentation, innovation, usability, fun details, technology, and any other specific points that could be considered, each of these points are further weighted for different jury groups.
About A' Design Award and Competitions
A'Design Award and Competitions, aims to highlight the excellent qualifications of best designs, design concepts and design oriented products. A' Design Award and Competitions are organized and awarded annually and internationally in multiple categories to reach a wide, design-oriented audience. Learn more: http://www.whatisadesignaward.com