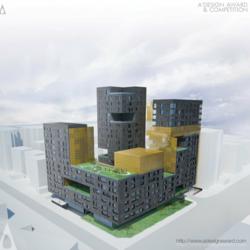 Como, Italy (PRWEB) July 12, 2012
A' Award and Competitions are proud to inform that the design Wafra Living by Agi Architects has been acknowledged with the famous Bronze A' Design Award at Architecture, Building and Structure Design Competition selected as one of the winners by the international referees of the A' Design Awards & Competitions among a great number of works.
Concerning Wafra Living
Agi Architects, the creative mind behind the winning design Wafra Living says, "The Wafra Living residential complex, located in Jabriya Kuwait is 6468 m2, offering three categories of rented apartments, the difference between them lies from the quality of finishes, type of facilities and their size. This type of exclusivity allows for a greater return on investment while at the same time breaking down the scale of the complex making it more personal to the individual resident. It is in this experience that AGi architects aim to create a quality environment that differs from other residential developments in Kuwait." Learn more at: http://www.adesignaward.com/design.php?ID=24969
Team Members for Wafra Living
Wafra Living was designed by Dr. Nasser B. Abulhasan, Joaquin Perez-Goicoechea, Salvador Cejudo, Gwenola Kergall, Daniel Munoz Medranda, Stefania Rendinelli, Carmen Sagredo, Bruno Martins Gomes, Jose del Campo, Lucia Sanchez Salmon, Moyra Montoya, Nicolas Martin, Sharifa Alshalfan, Hanan Al Kouh, Babu Abraham and Robert Varghese.
The Bronze A' Design Award
The Bronze A' Design Award is a prestigious award given to top 10% percentile designs that has attained an exemplary level of excellence in design. The designs are judged by a panel of three different jury which is composed of Academic, Professional and Focus Group Members. The designs are evaluated with score normalization to remove any biases and are voted on aspects such as functionality, ergonomics, engineering, presentation, innovation, usability, fun details, technology, and any other specific points that could be considered, each of these points are further weighted for different jury groups.
About A' Design Award and Competitions
A'Design Award and Competitions, aims to highlight the excellent qualifications of best designs, design concepts and design oriented products. A' Design Award and Competitions are organized and awarded annually and internationally in multiple categories to reach a wide, design-oriented audience. To learn more visit: http://www.whatisadesignaward.com