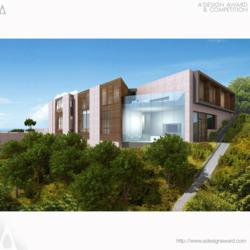 Como, Italy (PRWEB) July 12, 2012
A' Award and Competitions are pleased to announce that the work Pacific Palisades Residence by Russell Shubin, Robin Donaldson and has been awarded with the famed Bronze A' Design Award in Architecture, Building and Structure Design Category elected as a winner by the esteemed arbiters of the A' Design Awards & Competitions among thousands of works.
Insights on Pacific Palisades Residence
Shubin & Donaldson Architects, the creative mind behind the winning project Pacific Palisades Residence demonstrates "Diffusion of the built form into the landscape defines the approach for situating this single family residence on a coastal bluff overlooking a natural canyon and the Pacific Ocean. A balance between the negotiation and mitigation of a severe topography, integration into a diverse built context, and an attempt to preserve the natural beauty of a virgin site bordered by State park land was sought to inform the building's siting/orientation and formal/material description. " To learn more visit: http://www.adesignaward.com/design.php?ID=25382
Project Members for Pacific Palisades Residence
Pacific Palisades Residence was designed by Russell Shubin and Robin Donaldson.
The Bronze A' Design Award
The Bronze A' Design Award is a prestigious award given to top 10% percentile designs that has attained an exemplary level of quality in design. The designs are judged by a panel of three different jury which is composed of academic, professional and focus group members. The designs are evaluated with score normalization to remove any biases and are voted on aspects such as functionality, ergonomics, engineering, presentation, innovation, usability, fun details, technology, and any other specific points that could be considered, each of these points are further weighted for different jury groups.
About A' Design Award and Competitions
A'Design Award and Competitions, aims to highlight the excellent qualifications of best designs, design concepts and design oriented products. A' Design Award and Competitions are organized and awarded annually and internationally in multiple categories to reach a wide, design-oriented audience. To learn more visit: http://www.whatisadesignaward.com