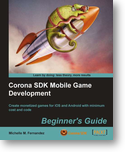 Birmingham, UK (PRWEB) July 10, 2012
Corona SDK Mobile Game Development: Beginner's Guide is a new addition to Packt's Library, written by Michelle M. Fernandez. This book is for everyone who wants to create commercially successful games for Android and iOS platforms, by applying several monetization techniques & tools and integrate them with social network.
Corona SDK is a software development which allows software programmers to build mobile applications for the iPhone, iPad, and Android devices. Corona lets developers use integrated Lua, layered on top of C++/OpenGL, to build graphically rich applications that are also lightweight in size and quick in development time.
Corona SDK Mobile Game Development: Beginner's Guide will ride through the basic foundations of Lua and Corona with some simple code, right through to creating several monetized games deployable to Android and Apple stores. It also helps readers create and optimize the game for mobile using touch and accelerometer. Adding sound, music and game physics such as collision detection will also covered in the book.
The book will teach the readers to add achievements with OpenFeint and Game Center. In the end, the readers would be able to implement app purchase and most important of all monetize and ship the game to the Android and App stores. Also,they'll learn to make the game socially popular by sharing messages and scores on Facebook and Twitter.
Written for anyone with no prior knowledge of game development or programming, this book allows you to create three fun games, deploy to iOS and Android and earn by advertising it. This book is out now. To read more about the book and the table of contents please visit the book web-page.