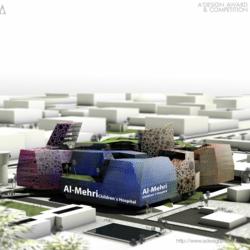 Como, Italy (PRWEB) July 12, 2012
A' Award and Competitions are pleased to announce that the work Kuwait Children's Hospital by Agi Architects has been granted the prestigious A' Design Award at Architecture, Building and Structure Design Competition elected as the winner by the international jurors of the A' Design Awards & Competitions amidst numerous projects.
Concerning Kuwait Children's Hospital
Agi Architects, the creator of the winning work Kuwait Children's Hospital explains "The proposed design for the Kuwait Children's Hospital (KCH) is conceived as a Landmark that responds to climate and culture, and re-interprets these values in a mid-rise building, that expresses in the skyline a powerful sign that establishes a strong sense of place, history, and future for the children of Kuwait. Like a fortress, it creates an exterior monolithic image that seeks protection from the harsh climate, and a softer interior oasis tailored to the children's use. " To learn more visit: http://www.adesignaward.com/design.php?ID=23930
Creative Team for Kuwait Children's Hospital
Kuwait Children's Hospital was designed by Dr. Nasser B. Abulhasan, Joaquin Perez-Goicoechea, Daniel Muñoz Medranda, Gwenola Kergall, Sharifa Alshalfan, Moyra Montoya Moyano, Marisa Ollero, Carmen Sagredo, Stefania Rendinelli, and Robert Varghese.
The A' Design Award
The A' Design Award is a prestigious award given to top 20% percentile designs that has carried out an exemplary level of in design. The designs are judged by a panel of three different jury which is composed of academic, professional and focus group members. The designs are evaluated with score normalization to remove any biases and are voted on aspects such as functionality, ergonomics, engineering, presentation, innovation, usability, fun details, technology, and any other specific points that could be considered, each of these points are further weighted for different jury groups.
About A' Design Award and Competitions
A'Design Award and Competitions, aims to highlight the excellent qualifications of best designs, design concepts and design oriented products. A' Design Award and Competitions are organized and awarded annually and internationally in multiple categories to reach a wide, design-oriented audience. Learn more at: http://www.whatisadesignaward.com