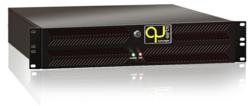 We have seen Squire interconnect with notable carriers such as BT and France Telecom and felt that with this kind of track record we could be sure of their product
London (PRWEB UK) 11 July 2012
Squire Technologies, a leading provider of carrier grade SS7, VoIP and NGN solutions to the telecoms industry, are pleased to announce the successful installation of their Media Gateway Controller (SVI-MGC) for Combis, one of Croatia's foremost system integrators. The MGC was deployed to enable Combis to utilise both SS7 and VoIP networks whilst continuing to use their existing Cisco Media Gateways.
One of the critical factors for Combis when selecting their Media Gateway Controller was the pedigree of the service they would receive, as Network Manager Juraj Markotic revealed, "The Media Gateway Controller project came about as we were seeking to connect to one of the largest carriers in Montenegro, so having a track record of such interconnects was one of our key criteria. We have seen Squire interconnect with notable carriers such as BT and France Telecom and felt that with this kind of track record we could be sure of the quality of their product."
In addition to a proven track record of large scale interconnects, Combis also needed a solution that would provide them with a high availability system, which Squire achieved by deploying their Media Gateway Controllers in a dual redundant formation.
Squire's Business Development Director, Simon Dinnage, added, "The Media Gateway Controller deployment for Combis reflects a continuing trend of customers looking for Media Gateway Controllers in order to expand their network's reach, a trend which has escalated after Cisco announced the End of Life of their PGW range of softswitches and software. Combis provide a great example of how a company can gain operability with new networks by adding new functionality to an existing network rather than starting from scratch.
Squire Technologies' Media Gateway Controllers have enabled companies using Media Gateways from the likes of Cisco, Alcatel Lucent and AudioCodes to expand their network reach whilst maximising the use of their existing infrastructure.
About Squire Technologies
Squire Technologies is a leading global provider of NGN, TDM and IP telecommunications products and solutions with world class installation and support services. Squire enables telecommunications companies who have previously been restricted to legacy SS7 and ISDN platforms to access VoIP networks, as well as providing signalling transfer points and protocol converters to further extend their customers' network reach.
About Combis
Combis d.o.o. is a regional systems integrator with significant experience in counselling, development, installation, integration and maintenance of integrated ICT solutions on a "turn-key basis". Combis is among the leading service providers in Adriatic region and the leading Croatian systems integrator according to IDC Adriatics. Established in 1990, in 2010 COMBIS became a member of T-HT Group, leading provider of telecommunication services in Croatia. Combis is orientated towards development of applications, communication, security and systems solutions, and providing services of development and integration of ICT solutions, management of ICT infrastructure and support.
More about Combis: http://www.combis.hr/en