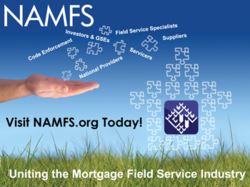 "We look forward to helping train and prepare the new generation of field service professionals to provide quality service for the industry." ~ NAMFS Board of Directors
Stow, Ohio (PRWEB) July 11, 2012
NAMFS is pleased to announce a new membership type tailored towards potential members with limited experience or seeking to enter the industry. This Provisional Membership will allow applicants with less that the requisite two years of industry experience the opportunity to join the Association to utilize the tools and programs it offers to gain this key experience. This new chapter for the Association will begin in September to coincide with the release of the previously announced enhanced NAMFS Training & Certification program. Members of the NAMFS Board of Directors say, "We look forward to helping train and prepare the new generation of field service professionals to provide quality service for the industry."
Provisional Members will remain in this status until they successfully complete the training courses and corresponding certifications for the services they provide or they gain the required two years of industry experience. Upon receipt of the certifications, the Provisional Member flag will be removed from their profile enabling them to become full members of the Association.
This new member type closes a significant educational gap and allows NAMFS to be the premiere educator for those companies with less than 2 years of industry experience. The NAMFS Certification Program will help these companies start off on the right foot through the combination of formal training and networking opportunities with other respected industry member companies. More information regarding this membership type will be made available prior to its debut in September.
About NAMFS
The National Association of Mortgage Field Services, Inc. (NAMFS) is the premier trade association for the mortgage field service industry. We are dedicated to working with all entities of the industry from the Government Agencies and investors that set policy to the contractors and inspectors that perform the work.