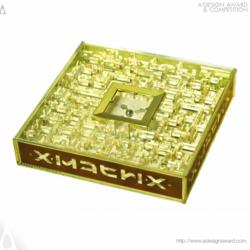 Como, Italy (PRWEB) July 11, 2012
A' Award and Competitions are proud to announce that the project Xmatrix Quadrus by Jeremy Goode has been awarded with the prestigious Golden A' Design Award in Toy, Games and Hobby Products Design Category highlighted as one of the winners by the transnational referees of the A' Design Awards & Competitions amidst a great number of projects.
Insights on Xmatrix Quadrus
Jeremy Goode, the creative mind behind the winning project Xmatrix Quadrus demonstrates "The Xmatrix Quadrus is a quality new, beautiful and mesmerizing three-dimensional labyrinth puzzle. It is unlike any puzzle you have ever seen before. The translucent, pixelated, crystalline layers play with light in a stunningly sculptural and interactive way. THE CHALLENGE: Navigate the ball from the GOLD side to the SILVER side and back again in the shortest possible time. Challenges memory, spatial awareness and hand-eye coordination. An affordable addictive futuristic gift, a collectable coffee-table conversation piece or an artistic object of contemplation?" Learn more about the award winning design: http://www.adesignaward.com/design.php?ID=24842
The Golden A' Design Award
The Golden A' Design Award is a prestigious award given to top 3% percentile designs that has achieved an exemplary level of sublimity in design. The designs are judged by a panel of three different jury which is composed of Academic, Professional and Focus Group Members. The designs are evaluated with score normalization to remove any biases and are voted on aspects such as functionality, ergonomics, engineering, presentation, innovation, usability, fun details, technology, and any other specific points that could be considered, each of these points are further weighted for different jury groups.
About A' Design Award and Competitions
A'Design Award and Competitions, aims to highlight the excellent qualifications of best designs, design concepts and design oriented products. A' Design Award and Competitions are organized and awarded annually and internationally in multiple categories to reach a wide, design-oriented audience. Learn more at: http://www.whatisadesignaward.com