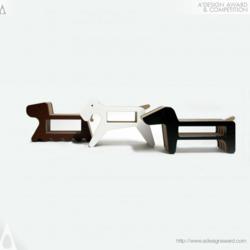 Como, Italy (PRWEB) July 11, 2012
A' Award and Competitions are encouraged to announce that the project Small Dogs by Savatore Solito has been honored with the noteable Platinum A' Design Award at Toy, Games and Hobby Products Design Competition highlighted as one of the winners by the respected judges of the A' Design Awards & Competitions amidst numerous nominations.
Details of Small Dogs
Salvatore Solito, the creator of the awarded design Small Dogs says, "Unique is the sentiment which inspired the object and urged my instinctive creativity: my daughter's desire for a dog. Normally, I put attention to the little things, little daily needs, little emotions, in this way I create healthy, pure and simple objects, aimed at the satisfaction of children and pleasantly useful for adults. Small Dog it's not only a toy, or the concretization of a child's dreams: it's so useful that it goes everywhere … walking… around the house. " Learn more and download high-resolution photos at: http://www.adesignaward.com/design.php?ID=24527
The Platinum A' Design Award
The Platinum A' Design Award is a prestigious award given to top 1% percentile designs that has carried out an exemplary level of sublimity in design. The designs are judged by a panel of three different jury which is composed of Academic, Professional and Focus Group Members. The designs are evaluated with score normalization to remove any biases and are voted on aspects such as functionality, ergonomics, engineering, presentation, innovation, usability, fun details, technology, and any other specific points that could be considered, each of these points are further weighted for different jury groups.
About A' Design Award and Competitions
A'Design Award and Competitions, aims to highlight the excellent qualifications of best designs, design concepts and design oriented products. A' Design Award and Competitions are organized and awarded annually and internationally in multiple categories to reach a wide, design-oriented audience. Learn more: http://www.whatisadesignaward.com