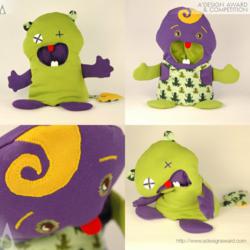 (PRWEB) July 11, 2012
A' Award and Competitions are proud to inform that the project Emok Mamoki by Renata Calka has been awarded with the renowned Golden A' Design Award in Toy, Games and Hobby Products Design Category picked as the winner by the transnational judging committee of the A' Design Awards & Competitions within a great number of projects.
Concerning Emok Mamoki
Renata Calka, the creative mind behind the awarded project Emok Mamoki explains "HiYa! I am EMOK MAMOKI - unique double sided soft toy. I am made with organic cotton and hypoallergenic stuffing which gives you extra soft feeling. I am like 2in1. On one side I am a nice kid. I can put my hands into my pockets, you can hide there your little treasures...Do you wonder who is on the other side? If you help me I can change into a cheerful monster. Turn me inside out through my mouth gently and gradually pushing. I got a tail finished with lavender filled heart, and that smells really nice! Now, what is your name? Will you play with me?" Learn more at: http://www.adesignaward.com/design.php?ID=24517
The Golden A' Design Award
The Golden A' Design Award is a prestigious award given to top 3% percentile designs that has attained an exemplary level of sublimity in design. The designs are judged by a panel of three different jury which is composed of Academic, Professional and Focus Group Members. The designs are evaluated with score normalization to remove any biases and are voted on aspects such as functionality, ergonomics, engineering, presentation, innovation, usability, fun details, technology, and any other specific points that could be considered, each of these points are further weighted for different jury groups.
About A' Design Award and Competitions
A'Design Award and Competitions, aims to highlight the excellent qualifications of best designs, design concepts and design oriented products. A' Design Award and Competitions are organized and awarded annually and internationally in multiple categories to reach a wide, design-oriented audience. To learn more visit: http://www.whatisadesignaward.com