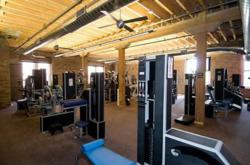 Chicago, IL (PRWEB) July 12, 2012
You used to workout but never saw the results you wanted, so gave up. You know you should workout to maintain optimum health but who has the time? Or, you're not happy about going up a pant size, but that's just a natural part of growing older, right? Wrong.
It's time to experience Chicago's best personal training with a free Introductory SuperSlow® Workout at CityWide SuperSlow® (CWSS). This year marks the 10th anniversary of CWSS Lincoln Park and grand opening of CWSS River North at 414 N. Orleans (Orleans & Hubbard). To celebrate, all Introductory Workouts at the new River North location are FREE* in July.
The SuperSlow® method involves lifting and lowering a heavy weight slowly. By eliminating rep force and momentum, the muscles are worked safely and more effectively. Unlike traditional strength training that uses faster rep speed and multiple sets with lighter weights, the SuperSlow® protocol involves only one set using a challenging weight. The goal is to push the muscles to complete exhaustion, or muscle failure. This science-based approach using high intensity training yields greater strength gains than traditional strength training. That means better results in less time; each workout is just under 30 minutes, twice a week.
Becoming strong and fit by weight training gives you many benefits, you will:

Increase muscular strength and endurance
Increase your metabolism
Increase your bone density
Reduce body fat
Prevent injuries
All this is possible with the SuperSlow® protocol. Current clients say it best, "What has kept me at it for 7 years is the continual improvement in strength I have made and the complete freedom from aches and pains." relays Chris Lytle.
To schedule your FREE* Introductory Workout at CWSS River North, call 312-970-5757 or visit http://www.citywidesuperslow.com
*1 Free Introductory Workout at CWSS River North only. Valid through July 31, 2012. Offer may not be combined with any other offers or promotions.
###
About CityWide SuperSlow®: Located in a loft space in the heart of Lincoln Park since 2002, CityWide SuperSlow® is a private professional, personal-training environment with no mirrors, music, cell phones or crowds to distract your ability to concentrate. High intensity exercise is performed on specialized MED-X equipment that allows for slow, frictionless movement and full range of motion under controlled speed. Precise records are maintained for every person's individual workout performance. CityWide SuperSlow® strives to provide our clients with the quality of high intensity training and support they need in attaining their goals. For more information, visit http://www.citywidesuperslow.com.