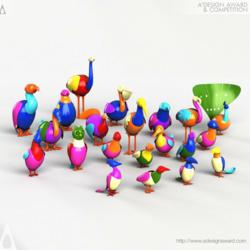 Como, Italy (PRWEB) July 11, 2012
A' Award and Competitions are delighted to share that the design Birds & Eggs by has been announced as a winner of the renowned A' Design Award at Toy, Games and Hobby Products Design Competition chosen as a winner by the international judges of the A' Design Awards & Competitions amidst thousands of works.
Details of Birds & Eggs
Hakan Gürsu, the creator of the awarded design Birds & Eggs explains "Birds&Eggs creative toy set allow children to create various birds with gathering different stylized body pieces. Designed for children above the age of 5, it is a universal toy that children from different cultural backgrounds learn and discover living animals while also designing their own birds. Set consists of head, neck, body, wing, tail and feet pieces. There are 24 characteristic bird heads including duck, owl, parrot, pelican and more. Parts are interchangeable and create an option set, which in the end enables creating thousands of bird types. " Learn more about this design: http://www.adesignaward.com/design.php?ID=25427
The A' Design Award
The A' Design Award is a prestigious award given to top 20% percentile designs that has delivered an exemplary level of in design. The designs are judged by a panel of three different jury which is composed of Academic, Professional and Focus Group Members. The designs are evaluated with score normalization to remove any biases and are voted on aspects such as functionality, ergonomics, engineering, presentation, innovation, usability, fun details, technology, and any other specific points that could be considered, each of these points are further weighted for different jury groups.
About A' Design Award and Competitions
A'Design Award and Competitions, aims to highlight the excellent qualifications of best designs, design concepts and design oriented products. A' Design Award and Competitions are organized and awarded annually and internationally in multiple categories to reach a wide, design-oriented audience. To learn more visit: http://www.whatisadesignaward.com