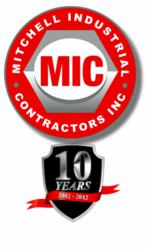 Huntsville, AL (PRWEB) July 12, 2012
Mitchell Industrial Contractors, MIC, of Madison, Alabama, has been named the Southeast Region 2012 Construction Firm of the Year by the Minority Business Development Agency, U.S. Department of Commerce. MIC will be honored at the 30th annual Atlanta Regional MED Week Awards Luncheon on August 2, 2012, at the AT&T building in Atlanta, GA. The Southeast / Atlanta Region encompass Alabama, Georgia, Florida, North Carolina, South Carolina, and Tennessee. MIC has been a client of MBDA since 2006 and a client of the MBDA Business Center of Alabama since 2010. MIC offers its clients General Contractor Services, Facility Maintenance Services and Grounds Maintenance Services.
Celebrating their 10th anniversary in 2012, Mitchell Industrial Contractors was founded in Decatur, Alabama in 2002 by Alan Mitchell, a member of the Echota Tribe of Cherokee Indians. After initially serving as a contractor in construction and Facility Maintenance, MIC quickly expanded and capitalized on successful relationships with many of its current customers, Toyota Engineering and Motor Manufacturing of North America, Boeing, Wise Alloys, United Launch Alliance, NASA - Marshall Space Flight Center in Huntsville, and the U.S. Army Corps of Engineers. MIC now serves as a prime contractor for numerous projects. MIC's current growth has seen them expand into a new, larger facility in Madison, AL,and grow its team to over 105 full time employees.
Mitchell Industrial Contractors, MIC, is a Native-American Owned, certified MBE with NMSDC, 8(a) Construction and Facility Services Firm. They have been a client of MBDA for over six years. Mitchell Industrial Contractors was the recipient of the 2010 Alabama MED Week Business of the Year, as well as the South Region Minority Business Council's 2010 Minority Business Enterprise of the Year Award. This is MIC's first Regional MED Week Award. For more information on Mitchell Industrial Contractors, contact them at (256) 772-5554 or visit them on the web at http://www.mitchellindustrialcontractors.com.
Celebrating its 30th Anniversary, the Minority Enterprise Development (MED) Week Conference is the nation's premier event for minority entrepreneurs and business owners, and honors excellence in corporate supplier diversity and minority business enterprise. MED Week provides opportunities for strategic partnership development with corporations, state and local governments, business associations, and academic institutions. The theme for this year's conference is "Job Creation in America. Build it Here, Sell it Everywhere." For more information on Atlanta Regional MED Week, visit http://www.medweekatlanta.com.