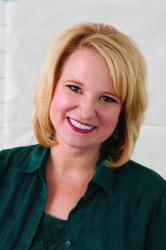 We are so excited to welcome Christy Jordan to our Taste of the South magazine family.
Birmingham, AL (PRWEB) July 11, 2012
Christy Jordan publishes SouthernPlate.com, a blog where she preserves family recipes that attracts millions of readers. Her first book, Southern Plate: Classic Comfort Food That Makes Everyone Feel Like Family (Harper Collins, 2010), features the recipes she grew up with, along with heartwarming stories of family and values she is known for. Her second book will be published in 2013 by Workman Publishing.
"We are so excited to welcome Christy Jordan to our Taste of the South magazine family," says Brian Hoffman, executive vice president & chief creative officer for Hoffman Media. "Her passion for food, family, and Southern culture is a natural extension of what we offer readers in every issue."
Beginning with the September/October 2012 issue, Jordan will work with the magazine's editorial team to provide a family-friendly menu in each issue. Jordan understands the importance of bringing family together around the table for a home-cooked meal at the end of the day, as do Taste of the South readers.
"I've been a longtime subscriber to Taste of the South for their heritage recipes for cooks of all levels," says Jordan. "I can't wait to expand Southern Plate into a regular magazine column."
About Hoffman Media: Hoffman Media, LLC is a privately held, leading special-interest publisher specializing in publications targeted to the food, cooking, and entertaining consumer. Hoffman Media's current titles include Cooking with Paula Deen, Southern Lady, Taste of the South, Victoria, TeaTime, The Cottage Journal, Phyllis Hoffman Celebrate, Louisiana Cookin', Just CrossStitch, and Sampler and Antique Needlework Quarterly.
Contact: Lynn Terry, Administrative Director
Hoffman Media, LLC
lterry(at)hoffmanmedia(dot)com