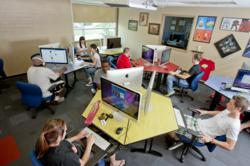 The success of this campaign will fuel our progress and forward movement for years to come.
Fort Wayne, IN (PRWEB) July 11, 2012
Indiana Tech's five-year Momentum comprehensive campaign officially ended on June 30 with a total of $29 million raised, far exceeding the original $19 million goal.
"This is a tremendous achievement considering the economic climate of the past few years," President Arthur E. Snyder said. "Our supporters have been extremely generous, and that shows how strongly they believe in Indiana Tech's ability to prepare learners of all ages for successful and satisfying careers."
After a year of "silent" fundraising, Momentum was publicly announced in September 2008 with a goal of raising $19 million by June 2012 to support academic initiatives, scholarships, and campus improvements. That goal was exceeded in the first three years of the campaign, and a new goal of $25 million was announced in September 2010.
"We called this campaign Momentum because, although it did include some construction projects, what we are really building here is a culture of continuous improvement," Snyder said. "The success of this campaign will fuel our progress and forward movement for years to come."
The results of the Momentum campaign include:

18 new endowed scholarship funds
The Scholars Leadership Program, which provides scholarships based on academic achievement, leadership skills, and community and campus service
New or renovated labs including the James and Joan Bard Life Sciences Laboratory, the Steel Dynamics Energy Engineering Laboratory, and the Wilfred Uytengsu Computer Science Laboratory
A geothermal heating and cooling system that functions as a living laboratory for engineering students
Grants that provide tutoring, mentoring and other academic assistance for students
Donations and grants to support academic programs in biomedical engineering, energy engineering, and education
Grants to support the McMillen Library
Campus improvements including renovation of the Wilfred Uytengsu Sr. Center and construction of five new residence halls and the Warrior Athletic Center
The Momentum campaign coincided with a period of rapid growth for the university. Since the start of the campaign's silent phase in 2007:

Total enrollment in traditional, accelerated and online programs has increased 48%.
Academic offerings have expanded to include degrees in criminal justice, education, energy engineering, fashion marketing and management, software engineering, and the Ph.D. in Global Leadership.
The Warrior athletic department has added teams for golf, track and field, cross country, lacrosse, and wrestling.
The College of Professional Studies has expanded online program offerings and established new campus locations in Fishers, Munster, Jeffersonville, Louisville, and Northern Kentucky.