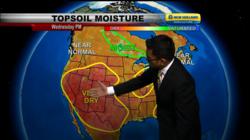 Weather Central Fusion helps me to make the most of precious time, both on camera and during prep time.
Madison, Wisconsin (PRWEB) July 10, 2012
Weather Central LP, maker of the most viewed weather system in the world, announced today that RURAL TV has deployed its Fusion™ weather system to deliver weather forecasts that are custom tailored to address the priorities and perspectives of rural America. RURAL TV recently went on air with Weather Central Fusion and delivers forecasts as an integral part of its programming lineup that is distributed on satellite, cable and IPTV services. Weather updates are also available on parent network RFD-TV and online at http://www.rfdtv.com/weather.
RURAL TV Chief Meteorologist C.T. Thongklin said, "Weather Central Fusion helps me to make the most of precious time, both on camera and during prep time. The Fusion interface is second nature to me so I can quickly get the information I need and build the scenes I want to deliver on air. I love storytelling tools like MagicTRAK® that encourage me to interact with the graphics during my presentation and let me deliver the weather in my own style. RURAL TV is very sensitive to its viewers' needs and Weather Central Fusion provides the flexibility we need to develop the most effective forecast presentation."
Fusion, from Weather Central, delivers the world's most accurate weather presentation solution within a complete, professional studio presentation and chroma-key production system. Features include:

Native publishing of content to online and mobile platforms.
Integration with social media tools including Facebook and Twitter.
MagicTRAK allows on-air talent to interact in real-time with graphic content, virtual sets and video by drawing, highlighting and moving objects using a wireless remote, video signal and fingertip.
Available 1KM Super MicroCast® that delivers high resolution, pinpoint accurate weather information.
SceneLaunch™ technology that allows presenters to interactively touch on the screen and launch entirely new scenes for seamless storytelling.
RURAL TV also uses ESP:LIVE® from Weather Central to cover severe weather.
Weather Central vice president for media solutions Bill Boss said, "RURAL TV offers a distinct perspective on the weather that focuses on variables that matter in the lives and livelihoods of its audience. The network's meteorologists are able to tap Weather Central's extensive data and indices, create graphics that are highly relevant to the audience, and then use the full range of storytelling tools in Fusion to deliver compelling, world-class weather forecasts."
For a complete look at Weather Central's solutions visit http://www.wxc.com.
About RURAL TV: RURAL TV is a multimedia agribusiness and rural lifestyle network dedicated to educating and entertaining the growing global population. Launched on February 15, 2012 by the creators of RFD-TV, RURAL TV features primetime news broadcasts focused on agribusiness and rural policy issues; weather; world commodity market updates; extensive event coverage; international trade, farm and horse shows; expanded livestock auctions; equipment and ranch reports and independent productions. For more information visit http://www.MYRURALTV.com
Corporate headquarters are located in Omaha, Neb., with production operations in Nashville, Tenn.
About Weather Central, LP Weather Central, LP, founded in 1974 by broadcasters and meteorologists based in Madison, Wisconsin, is the leading provider of professional on‐air, online, print, mobile and enterprise weather solutions and forecasting in North America and to major customers worldwide. Utilizing the Company's dynamic weather graphics, precise forecast models and data, and patented technology, more than 1000 partners and hundreds of millions of consumers worldwide benefit from Weather Central's attention to weather presentation, detail and insight.
© 2012 Weather Central, LP, Madison, Wis. All rights reserved. Product specifications and availability are subject to change without notice. Weather Central LP, Fusion, Fusion Studio, :LIVE, GENESIS:LIVE, 3D:LIVE, ESP:LIVE, MagicTRAK, LiveLine GENESIS, A.D.O.N.I.S. MicroCast, A.D.O.N.I.S. FutureCast, StormSentinel DV, WxWarn2, ScreenWRITER, SportsWRITER, SimulCAST, X‐Vision, Storm Vitals, TelePath, RainVision, SnowVision, FunnelPATH, CellPATH, HailZONE, GustZONE, MessoPATH, Always‐On Training, Instant Mapping and WxPoint are either registered trademarks or trademarks of Weather Central LP. All other trademarks contained herein are the property of their respective owners.