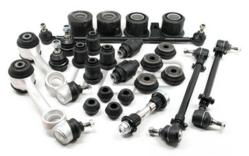 We are pleased expand this line to over 7,000 Mercedes Benz specific SKU's
Old Saybrook, Connecticut (PRWEB) July 13, 2012
FCP Euro CEO, Scott Drozd, announced today that it will expand its product offering to include a full range of Mercedes Benz replacement parts for sale online through the FCP Euro website. Mercedes Benz is a highly respected automotive brand and parts manufacturer throughout the world.
When making the announcement, Drozd noted Mercedes global reputation for quality and innovation, stating, "Mercedes Benz is one of the elite auto parts manufacturers in the market. We are pleased expand this line to over 7,000 Mercedes Benz specific SKU's, covering all major parts of the to the FCP Euro lineup, including Mercedes brakes, suspension, timing, engine, cooling, and more. Mercedes Benz parts are engineered to the highest standards of quality in the automotive industry. We're ecstatic to unite Mercedes Benz's excellent reputation with our brand."
By expanding a full range of Mercedes Benz replacement parts online, FCP Euro can ensure that its customers enjoy the best possible prices when purchasing these outstanding Mercedes Benz Parts. This commitment to customer service allows FCP Euro to provide the best possible shopping experience for consumers who visit the company's online auto parts store.
About FCP Euro
FCP Euro is dedicated to providing the highest quality OEM auto parts at the lowest prices in the automotive marketplace. FCP Euro delivers BMW, Volvo, Volkswagen, Audi, Mercedes and Saab auto parts to its customers throughout the world. FCP Euro orders its parts direct from the manufacturer and ship from their warehouse in Old Saybrook, Connecticut. This allows FCP to pass the savings along to their customers and provide them with the best possible deals on the full range of European auto parts.