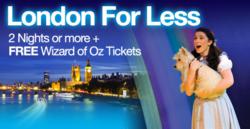 (PRWEB UK) 11 July 2012
Superbreak, the short break specialists based in York, has announced the addition of the Wizard of Oz Musical to its 'London for Less' portfolio of products, offering customers more ways to save in London throughout summer 2012. The Wizard of Oz musical currently stars Sophie Evans, runner up of TV talent show Over the Rainbow, as Dorothy and TV legend Des O'Connor as the Wizard. Andrew Lloyd Webber's musical production of L. Frank Baum's classic story is a firm West End favourite and has been wowing audiences since opening at the London Palladium theatre in 2011.
Superbreak customers can now add complimentary The Wizard of Oz show tickets to their booking as part of the popular 2 night London for Less deal, which offers a two night hotel stay in a choice of London hotels and a selection of free attraction tickets to choose from. After busily expanding their product range across Britain, the York based tour operator hopes that the addition of The Wizard of Oz to the London for Less programme will offer even more choice for those planning on heading to London during the Olympic Games later this year.
A recent OnePoll survey found 2.4 million Olympic ticket holders have already purchased musical, theatre or play tickets and a further 1.7 million still plan to book. Superbreak hope that the addition of a popular theatre show to their London for Less programme will offer great value to customers who already have an Olympic Games ticket and are also hoping to see a show, as well as to those simply heading to London to join in the spirit of the Games who are looking for more ideas on what to do during their stay.
Since its launch in 2007, the London for Less deal has continued to grow in popularity amongst Superbreak customers. Popular free gifts taken last year included the dining options of PJs Bar & Grill, Planet Hollywood and Tandoori Nights. As well as The Wizard of Oz, other new products for 2012 have included the Chelsea Physic Gardens, and new attractions have also been added to their 'Edinburgh for Less' and 'York for Less' deals, expanding their Cities for Less breaks range across the UK
David Thomas, Head of Theatre at Superbreak, commented: "What could be better than a night at the world famous London Palladium, transformed into the ravishingly spectacular Land of Oz, to experience Des O'Connor, one of Britain's true show-biz legends, and one of our brightest young stars, Sophie Evans, runner up in the BBC's "Over The Rainbow," in one of the most feel good productions to grace the West End in years..? What could be better? Getting tickets with the compliments of Superbreak of course!"
About Superbreak:
Superbreak is the internet division of Superbreak Mini Holidays Limited, the market leader for short breaks and hotels throughout the UK, including hotels in Edinburgh, Paris and Dubai. Superbreak is part of Holiday Break plc. Based in York, England, Superbreak specialises in booking city breaks in 2-5 star hotel accommodation throughout Britain for the leisure traveller. Superbreak also work with various travel providers offering a range of rail breaks, P&O mini cruise breaks, flights & more.
With 5000 plus hotel partners in worldwide locations from hotels in Manchester to Brighton, from London to Paris and with great availability and rates for theatre breaks, events at the O2 Arena, various popular attractions and national and international rail partners, Superbreak can offer an outstanding depth and breadth of UK and Overseas short break products.
For further information on Superbreak or on this PR, please contact:
Khalid Amin
Online Marketing Manager
Superbreak Mini-Holidays
Eboracum Way
York
YO31 7RE
(01904) 436043
http://www.superbreak.com