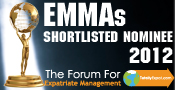 Pittsburgh, PA (PRWEB) July 12, 2012
AIReS has once again received a place on the shortlist in the U.S. Expatriate Management and Mobility Awards, otherwise known as the EMMAs. The EMMA awards are held each year by the Forum for Expatriate Management to recognize leading organizations within the global mobility industry, their successes and accomplishments, and the progress they have made in various industry-related categories.
This year, AIReS is among top competitors for the "Most Innovative Use of Technology" award. Our recent development of an efficient, internal company database as well as continued improvements to our unique client-facing technology has set us apart from the crowd.
All shortlisted nominations will be reviewed and assessed by a panel of judges, and awards will be presented during the FEM Global Mobility Summit. The ceremony will be held at the JW Marriot Las Vegas Resort and Spa on September 13th.