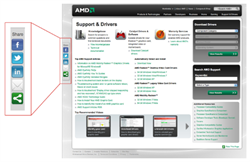 The results are in-line with expectations, but the magnitude of difference is surprising.
New Delhi, India (PRWEB) July 11, 2012
AMD, a global semiconductor design innovator, tested different versions of the social sharing buttons on their website in order to encourage visitors to share the website content on various social networking websites. They used Visual Website Optimizer, an industry leading A/B testing software, to test six different versions of sharing buttons and ultimately found a winning design which increased the social sharing on their website by up to 36 times (as compared to original design).
The six different versions of social sharing buttons that needed to be tested on AMD website were created by the AMD online marketing team with the help of the Visual Website Optimizer engineering team. Different versions of sharing buttons differed by their placement (top, bottom, left and right) on webpage and the size of buttons. All six variations were deployed on the entire AMD support (support.amd.com) website.
After analyzing the results of the A/B test, AMD found the sharing buttons located on the left side of the page produced up to 3600% more shares as compared to the original design. As a result, AMD implemented the sharing buttons design on their website. Ahmad Rahman, senior web analyst at AMD commented on the results: "The results are in-line with expectations, but the magnitude of difference is surprising. These results support not only the modification of our ShareThis icons, but also for the performance of future A/B tests."
Aqif Hassen, manager of the analytics, search & email marketing team at AMD said "Visual Website Optimizer was a quick turnkey solution to implement and is proving high ROI to my team and AMD globally in delivering an optimized user experience to our online audience and ongoing optimization with relatively low effort."
As AMD gets thousands of visitors daily, they wanted a solution that was scalable and did not have a negative impact on the performance of the website. AMD also needed a customizable solution to fit their infrastructure with a support team who can guide and help AMD on each step of test creation process. They found both with Visual Website Optimizer.
Commenting on successful test and optimization by AMD, Paras Chopra CEO of Wingify, the company behind Visual Website Optimizer said: "They [AMD] evaluated several solutions but ultimately chose Visual Website Optimizer because of the flexibility of the tool and level of customer service we offer. I am very glad to see AMD getting such good results on their initial A/B tests. Hopefully, using Visual Website Optimizer, they will continue to conduct several A/B tests on different areas of their website andcontinue optimizing the user experience on their website."
[About Wingify]
Wingify is a New Delhi, India based company that makes Visual Website Optimizer, a market leading solution for increasing website sales and conversions using tools such as A/B testing, Multivariate testing, behavioral targeting, usability testing and heatmaps. Used by 1400+ paying customers across 50+ countries, marketing professionals at organizations like AMD, GE, Microsoft or Groupon simply love Visual Website Optimizer.