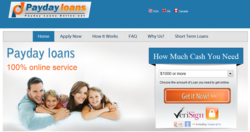 Going to a payday loan store in person during working hours often further continues the cycle of financial struggle.
Atlanta, GA (PRWEB) July 11, 2012
Paydayloansonline.net announces its new online payday loans service, suitable for individuals with good or bad credit. As a completely online operation, the company works with a list of reliable local state based companies in the U.S. and connects them to those in need of temporary, short-term extra cash. A review of the company website showed that the average time from approval to receipt of funds is one to two hours.
A company spokesperson from paydayloansonline.net explained in further detail the process.
"Paydayloansonline.net announces its new instant payday loans service. We have made our application process as hassle-free and simple as possible. All we require is completion of a short and secure online application. In many cases, the total online payday loan amount can be as much as $1,500. These funds are made available through direct deposit into the borrower's bank account in a matter of hours."
The spokesperson added that one of the biggest complaints heard from its clientele was the requirement of many payday loan stores to visit in person, often during times when customers are at work.
He said, "Going to a payday loan store in person during working hours often further continues the cycle of financial struggle. By missing work to go to an appointment, customers lose out on earnings. The good news is that the fully online method of Paydayloansonline.net means that our clients will never have to deal with time-intensive administration or in-person applications. We are sensitive to the needs of the average working American and make our online service available 24 hours a day, 7 days a week from your computer."
The move towards an online loan application system, such as the one offered by Paydayloansonline.net, appears to be a sign of the times, as the internet gives convenient home access to many services. Online means no fax is necessary, making a convenient shift for people who do not have access to facsimile machines but do own a home computer. This forecast is supported by research from marketing group The Nielson Company, which found that 80% of Americans now have a computer in their homes, and of those, almost 92% have internet access.
Amid recent controversy concerning short term loans in many U.S states, the company spokesperson for Paydayloansonline.net was keen to demonstrate that the company operated in compliance with all new laws.
"Last Fall, new laws were passed in the majority of U.S states now making it very difficult to "roll over" multiple paycheck advances. Now, most states legally require that companies offering them also make available extended repayment plans. This is a big reason why we are locally focused in our matching of lenders to borrowers."
"Paydayloansonline.net partners only with reputable lenders across an individual's home state to ensure each client receives a cash advance and repayment plan according to their respective state laws, for their protection."
To learn more or apply for a payday loan of up to $1,500, go to http://www.paydayloansonline.net/apply-now/