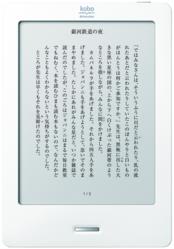 "We're thrilled to see this response from the Japanese people," said Mike Serbinis, CEO, Kobo. "The Kobo Touch is selling like hot-cakes"
Toronto, ON (PRWEB) July 10, 2012
Kobo Inc., a global leader in eReading, and its parent company Rakuten, the world's third-largest e-commerce company, today announced that the Kobo Touch™ is selling like hot-cakes in Japan. Since the companies began offering the award-winning Kobo Touch for pre-order on July 2, the eReader has been the top selling product among the over 100,000,000 products available on Rakuten's supermall.
"We're thrilled to see this response from the Japanese people," said Mike Serbinis, CEO, Kobo. "The powerful partnership we have with Rakuten, along with our competitive entry into the market, has clearly delivered on our promise to bring a great consumer experience to Japan."
The Kobo Touch eReader is currently available for pre-order at http://kobo.rakuten.co.jp/ for ¥7980 including tax (or $100 USD), and Rakuten's nearly 80,000,000 members are also eligible for additional Rakuten Super Point rebates of between ¥500-3000 (or $7-35) . The Kobo Touch uses the industry standard EPUB 3.0 format which supports Japanese language layout including vertical text and ruby characters. On July 19, Kobo will launch its fully localized Japanese experience with local currency and popular Japanese content and authors. Rakuten customers can use their Rakuten-member ID to purchase content from the site and will earn Rakuten Super Points equivalent to 1 percent of the purchase amount. Rakuten Super Points can be used to purchase eBooks or redeemed across the Rakuten Ecosystem, including Rakuten's online shopping mall Rakuten Ichiba.
"Japan is one of the world's most literate and book-loving countries on earth and the desire for digital content in Japan is immense and growing," said Hiroshi Mikitani, CEO, Rakuten. "We are going to bring the world's best eReading experience to Japan, customized to the Japanese reader, and will continue to provide consumers with the best e-commerce experience possible."
Kobo has quickly become a major contender in the global eReading market with triple-digit-growth year-over-year and with expanding presence in Canada, the United States, the Netherlands, United Kingdom, Germany, France, Australia, New Zealand and now Japan. With more than 2.4-million titles available for the Japan market, consumers will be able to access eBooks from their favorite Japan authors as well as titles from around the world including bestsellers, classics, newspapers and magazines.
Kobo's social reading platform Reading Life™ will also be supported in Japan allowing users to gain insights into their own reading patterns. Reading Life captures the reading behavior of the user – such as how long they read, or how many pages, or their favorite time of day to read – and recognizes the achievement with Reading Life awards. These fun badges can be collected and shared with friends and fellow readers through Reading Life and Facebook™.
The Kobo Touch will be sold through Rakuten's online shopping mall, "Rakuten Ichiba," and "Rakuten Books," as well as through electronics retailers. In addition, consumers can experience the easy-to-use device at dedicated "touch & try" centres that will be set up at major bookstores for people to get the full Kobo experience and ask questions to learn more about eReading and eReaders.
ABOUT KOBO, INC.
Kobo Inc. is one of the world's fastest-growing eReading services offering more than 2.5 million eBooks, magazines and newspapers– and counting. Believing that consumers should have the freedom to read any book on any device, Kobo has built an open-standards platform to provide consumers with a choice when reading. Inspired by a "Read Freely" philosophy and a passion for innovation, Kobo has registered users in 190 countries, where millions of consumers have access to localized eBook catalogues and award-winning eReaders, like the Kobo Touch. With top-ranked eReading applications for Apple, BlackBerry, Android, and Windows products, Kobo allows consumers to make eReading social through Facebook Timeline and Reading Life, an industry-first social experience that lets users earn awards for time spent reading and encouraging others to join in. Headquartered in Toronto and owned by Tokyo-based Rakuten, Kobo eReaders can be found in major retail chains across the globe.
For more information, visit http://www.kobo.com.