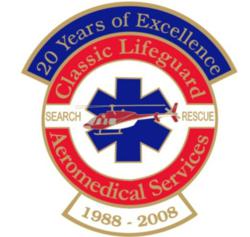 Their contributions to the NAAMTA Alliance resonates their pursuit for procedural excellence and continuous improvement to the industry.
American Fork, UT (PRWEB) July 11, 2012
The National Accreditation Alliance of Medical Transport Applications (NAAMTA) would like to congratulate Classic Lifeguard Aero Medical Services, an Alliance Member, for reaching their one-year medical transport accreditation anniversary and contributing to the NAAMTA Alliance.
For over 24 years, Classic Lifeguard (a rotor and fixed-wing organization) has been filling the needs for emergency air medical transport services receiving calls from multiple EMS and law enforcement agencies to hospitals and clinics along the Arizona/Utah border with bases in Page, Arizona, Vernal, Utah, and a recently opened base in Riverton, Wyoming.
NAAMTA's Accredited Members are held in high esteem for meeting stringent requirements for medical transport operational excellence. Classic Lifeguard excelled in this process by showing strict compliance through adherence to the NAAMTA Standards, demonstration of best practice procedures identified in employee interviews and on-site evaluations conducted by auditors who are ISO 9001:2008 Quality Management Systems Certified.
"In the year since Classic Lifeguard received their NAAMTA Accreditation they continue to impress us in providing quality patient care and practicing safety for their medical transports. The time and dedication of Program Director Matt Stein and his employees is evidenced in their transports, training, and commitment to readiness for the variety of calls and the demands of the areas they service. Their contributions to the NAAMTA Alliance resonates their pursuit for procedural excellence and continuous improvement to the industry. We congratulate Classic Lifeguard and thank you all," Amy Arndt, NAAMTA's Program Director.
Classic Lifeguard has built a solid reputation of excellence and safety in providing emergency scene response and inter-facility transport services.
"Classic Lifeguard appreciates NAAMTA's recognition of our commitment to excellence in the areas of ethical practices, safety and continuous quality improvement. We look forward to many years of working with NAAMTA in improving overall patient care and aviation safety," states Matt Stein, Classic Lifeguard's Program Director.
About NAAMTA
NAAMTA's character is to facilitate an Alliance with Medical Transport Service organizations and existing or emerging policymakers to establish and maintain an accurate and valuable set of standards and target accreditation that promotes EMS community exchange, improved organizational performance, and inclusion into overall industry best practices.
NAAMTA is committed to developing and maintaining "best practice procedures" and establishing a quality culture for patient care and safety, using a program that encapsulates procedures for evaluation and continuous improvement. NAAMTA's motto "Partnership for Lifesaving Excellence," and goals reflects their vision of building an Alliance and unifying medical transport organizations in these endeavors.
NAAMTA has recently acquired certification of the prestigious International Organization for Standardization (ISO 9001:2008 Quality Management System). ISO certification practices ensure that NAAMTA is dedicated to approaching each audit of medical transport organizations equally.
NAAMTA leads in the medical transport accreditation arena by providing member services and tools that assist organizations in developing and maintaining quality management procedures and guidelines to continuously evaluate and improve organizational practices. Through NAAMTA's unique website functionality, members are able to access schedules, company documentation, implement online reporting anytime and anywhere.
NAAMTA is pleased to celebrate with Classic Lifeguard its first full year of Accreditation and Alliance Membership.