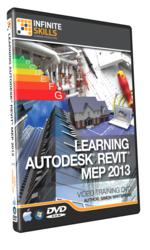 Master Revit MEP From a Leading Expert
(PRWEB) July 12, 2012
Training software company InfiniteSkills Inc is now offering a beginners Autodesk Revit MEP 2013 Tutorial Video on DVD-ROM, with 173 lessons on the program's core functionality and most important plumbing, electrical and mechanical engineering feature sets.
The Revit MEP tutorial covers an extensive range of capabilities, beginning with the program's user interface and primary tools for creation. After moving through viewing, editing and system analysis functionality, the training moves through specific real world uses of Revit such as HVAC, Fire Protection systems and Electrical panel design. Finally the Revit 2013 training video course goes through workflow optimization and several new features unique to the latest edition.
Autodesk Revit MEP 2013 Tutorial Video - Training Guide
To illuminate difficult concepts and industry-specific subject matter, the Revit MEP course adheres closely to sample projects, which are included with the training videos as accessible files. All of the Revit training performed onscreen is presented in real time, resulting in a full course of study that viewers can follow on their own workstations or personal machines.
"Relevant, high quality Revit training is hard to come by, especially at this price," said Colin Boyd, sales director for InfiniteSkills. "As a follow-up to our successful Revit 2012 tutorial series, we're positioning the Revit MEP 2013 training as a cost-effective point of entry for engineers and technicians of all levels."
Boyd says the tutorial has been built for beginners but includes many advanced lessons on relevant topics in the world of engineering. Subjects included within the course include building heat and cooling analysis, duct design, hydronic pipe layout, electrical conduit construction and more.
"There is a truly wide range of what people can use the program to do, so the training has been built around 'universal' tools and then specific examples that best reflect what professional users will want to do," said Chris Johns, content specialist for InfiniteSkills.
Industry veteran and Revit trainer Simon Whitbread narrates the full training course. As an expert in Autodesk Revit integration, he has helped architecture and engineering firms update and adapt their practices to incorporate the latest innovations in software throughout Australia, New Zealand and the UK. In this Revit MEP training series he focuses on successful approaches for individuals to achieve professional results.
The complete 10.75-hour Autodesk Revit MEP 2012 Tutorial Video is available in multiple formats directly from InfiniteSkills. The course can be shipped throughout the world on a Mac and Windows-compatible DVD-ROM, or downloaded instantly online from the company's website. Pricing for both editions is $99.95 USD, with free shipping throughout the United States and Canada.
More information on the full Revit MEP training course, including 14 free demo videos can be found on the product page:
http://www.infiniteskills.com/training/learning-autodesk-revit-mep-2013.html
About InfiniteSkills Inc
InfiniteSkills is an innovator in the field of technology software training. The firm's progressive approach teaches complex topics by focusing on task-oriented training.This allows users to intuitively grasp a wide range of skills they can seamlessly integrate into their daily workflow. With DVDs, digital downloads, and iPad editions of its training titles, the company delivers professional quality training to customers anywhere they want to learn.