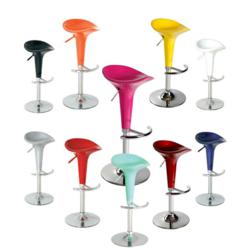 Special offer! Pazifik Bar Stool 2 for £49.95
(PRWEB UK) 14 July 2012
FurnitureInFashion, a popular online furniture retailer, announces a sale on all bar stools. The company says that those who are aiming to make a statement through their home décor, a bar stool definitely is the suitable answer. FurnitureInFashion has manufactured the bar stools by following the increased trend of bold statement pieces. The company's owner was of the opinion that bold statement pieces are selling extremely well these days which has encouraged the company to introduce stylish and affordable bar stools.
FurnitureInFashion has been into retail business since 2006 with a successful growth and sale. The company is offering over 9000 innovative and invigorating products for home. FurnitureInFashion has followed the current furniture trends closely for manufacturing the bar stools.
The owner of FurnitureInFashion Asad Shamim said, "If ergonomic geometry, clean lines and neutral shades are your preferred requirements for décor, you will definitely love our range of bar stools. The best thing about them is that they can add serious style punch for their modest size."
Asad Shamim was asked to give details about some of the most popular and hot seller designs that are available at reduced prices. He said, "We have reduced the prices by 20% on all bar stool designs. The designs we have in bar stools make bold statements which are proving incredibly popular. In addition to simple bar stools, our customers can now enjoy reduced prices at our most stylized swivel barstools as well. Our customers have really enjoyed swivel bar stool as a feature piece in their work places and homes."
The price reduction of bar stools by FurnitureInFashion is impressive because it also includes highly functional bar stools as well. The swivel bar stools are also available with footrests and are equipped with seat adjustment feature. These features in the bar stools allow greater ergonomic support and comfort. In addition, these bar stools are available in a broad range of colors. The owner of FurnitureInFashion said, "Having the features of adjustment and extra comfort at such a low cost makes this a not-to-be-missed offer for customers."
When asked why statement piece like these bar stools are proving to be such hot sellers, the owner of FurnitureInFashion explained their appeal and said, "You can change the overall look of a very simple room by carefully chosen and well crafted bar stool. The off-beat styles and quirky appeal of these bar stools represent a minimal and economic way to make a room look modern and stylish. Your room can speak volumes and make a strong stylistic impression by installing singles, pairs or larger numbers of bar stools for a very reasonable price."
FurnitureInFashion offers a wide range of bar stools that come in acrylic for colorful rooms where the statement is on the fabrics or walls. In addition, the company also offers wood for edgy yet natural feel and black or brown for maximum impact. These and many other colors are also available in these bar stools. The owner of FurnitureInFashion says," Customers are invited to participate in the bar stool price reduction to save up to 20%."
FurnitureInFashion are the suppliers of quality and affordable home and office furniture. FurnitureInFashion has an impressive record of experience in the retail business as well as a long history of impeccable customer sales support.
As a UK's one of the leading online retailer, FurnitureInFashion's range includes bedroom furniture, living room furniture, dining room furniture, hallway furniture, bar furniture, bathroom furniture, office furniture and other furniture accessories and settings. All items are available through the online store of FurnitureInFashion as well as the showrooms in the UK. For further information and details about the reduced prices and bar stools visit http://www.furnitureinfashion.net.