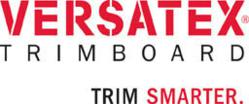 "Custom builders and renovators will tell you that a well-informed homeowner tends to be a happy customer," says VERSATEX Vice President of Sales Rick Kapres.
Pittsbugh, PA (PRWEB) July 11, 2012
VERSATEX Trimboard, a leading manufacturer of premier PVC trim products for residential construction, has just released its first "On the Level Report," a free roundup of builder insights about homeowners and the construction business.
"Custom builders and renovators will tell you that a well-informed homeowner tends to be a happy customer," says VERSATEX Vice President of Sales Rick Kapres. "That's why successful contractors put so much effort into educating their clients. And that's why we've published this report. It reflects what high-end contractors think about the industry."
In a VERSATEX-sponsored panel discussion conducted at the International Builders Show in Orlando earlier this year, eight construction professionals shared lessons learned that could make life easier for homeowners and builders alike. Among their conclusions:
1. Modern materials that reduce maintenance can still complement historic or traditional exteriors.
2. Baby Boomers may regret postponing renovations that can make their homes more senior-friendly.
3. The lowest bid often conceals hidden headaches.
4. A " Made in U.S.A." sticker can save homeowners time and trouble.
The report, which is downloadable at http://www.versatex.com on their News link, includes frank comments like these:
(On nontraditional materials that contribute to curb appeal)
"I'm not recommending [synthetic materials] everywhere," said one panelist, "but I have to tell my clients that some of the old materials just aren't working anymore. And some of them never did."
(On adding accessibility and convenience for seniors)
"We hear a lot about renovation for 'aging in place,' 'grandma suites,' 'universal access,' and so on, but … the sad reality is that people don't want to think about it," said a New England renovator. "Frankly, I find that it's kind of taboo to bring up the subject, even if you disguise it as 'universal design' or 'planning ahead.'"
The real wave of "universal access" design and renovation may not hit for a few more years, he added, when currently-fit seniors find themselves stiffening up, slowing down and urgently needing reconfigured living spaces.
(On the hidden costs of hiring the lowest bidder)
"Customers look at both sets of figures and say, 'A house is a house, how much different can it be?'' said one builder. "That's where it starts … telling them to interview our previous clients, explaining that if they have a problem in five years, we'll take care of it."
Another panelist said, "I wish the … magazines would do more 'Homeowner Beware!' articles," noting that it's not always easy for potential clients to recognize an inexperienced, less capable contractor likely to get in over his head on a big project.
(On two advantages of American-made materials)
When budgets are tight, the apparent savings on low-priced, imported materials are small, and can easily disappear if durability or safety are compromised, one contractor pointed out. If trouble develops, manufacturers and suppliers may be anonymous and oceans away. On the other hand, when budgets are generous, many imported luxury materials perform well, but "red tape," long lead times, shipping damage, and the difficulty of settling international disputes can frustrate homeowners and the contractors alike.
VERSATEX offers the full text of the On the Level report, free of charge, at http://www.versatex.com under News.
About VERSATEX: VERSATEX Trimboard, a division of Pittsburgh-based Wolfpac Technologies, produces innovative cellular PVC extrusion products such as VERSATEX trimboards, sheet, bead board, moldings, the Stealth trim system, and the VERSAWRAP column system. For more information, visit http://www.versatex.com.