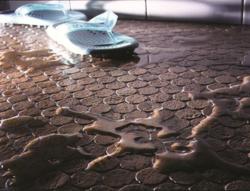 "I have found that the aesthetics of the recycled wine discs in the mosaic appeal to a broad group, from wine connoisseurs for use in their homes/cellars, to restaurateurs for its' consumer appeal, story line and natural feel." Paul Cook, www.cooktile.com
Boulder, CO (PRWEB) July 11, 2012
"The beauty of the cork mosaic is that it brings something really unique to tile market. Not only is the material as sustainable as it gets, being that it is un-modified cork harvested from the bark of the cork oak tree, but it can be stained or painted any color under the sun", touts Pete Nichols, VP of Sales. In addition, Versacork Concepts in partnership with Bostik, INC., a global leader in adhesive, water-proofing and grout technologies, has developed a straight 'out- of-the-box' installation system, using its adhesive products and propriety urethane grout. "We are very excited about this partnership with Bostik. We feel that having the support and backing of one of the top notch companies in the industry is a blessing for us. Not only will the use of the Quartzlock2 and Dimension grout systems minimize potential mixing related installation issues, we have been able to package our material in amounts suitable for a 1:1 use ratio with Bostik's urethane grout", saying Rich Scott, President of VersaCork Concpets and a long-term proponent of the urethane grout technology.
Cork as a raw material has excelled in construction related applications and installations for decades, due mainly to its' inherent functional attributes. Cork is both a thermal and acoustic insulator. When used in flooring applications, it is not only warm to the touch unlike any stone, ceramic or porcelain product, but it also helps dampen and minimize sound transference, both between and through spaces . Cork is relatively soft, but very resilient. It tends to compress under weight, and then rebound once the weight in removed. This ability to absorb impact not only has tremendous benefit to ones' joints in general, but on a more microscopic scale, it provides tremendous slip resistance, especially in wet applications. The cork mosaic is suitable for use in shower basins, tub surrounds, and any other wet installation.
"What has made a tremendous impact for our clients is the fact that the cork mosaic offers tremendous slip resistance, and can be designed and installed to match almost any décor," says Alex Argento, President of Pura Terra, a national consulting and specification company. "Being that we heavily target multifamily, hospitality, and assisted living projects, these functional attributes have enabled us to stand above the other products, which I'll call more traditional. I think we have landed upon the holy grail of a product tile that is natural, functionally superior, and literally provides a limitless design canvas for our clients to work from."
Henry Onians, General Manager of MLW Stone, a distributor out of Georgia, says, "we are excited about the cork mosaic and the potential through our dealers. We have found that since the economic downturn, our dealer base is seeking more unique products, and I am personally a huge fan of cork as a material. Though we have only just started our distribution of the cork mosaic, we feel it fits a defined niche and need in the market."
For additional product, installations, and/or company information, please contact Versacork Concepts, LLC, (http://www.Versacork.com).