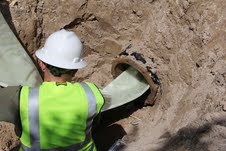 "This is a major breakthrough, not only for our company, but for the industry as well," stated Mike Vellano, Vice President of Sales and Marketing for IPR.
The Woodlands, TX (PRWEB) July 12, 2012
Inland Pipe Rehabilitation (IPR) announced today that it is now in a position to immediately begin rehabilitating drinking water pipes with its licensed cured-in place pipe (CIPP) system, RS BlueLine®. NSF International announced the certification of RS BlueLine to NSF/ANSI Standard 61 - Drinking Water System Components-Health Effects, the most stringent and recognized certification standard for products coming in contact with drinking water in the world.
"There are literally thousand of miles of water transmission and distribution pipes that are long overdue for repair and replacement. The RS BlueLine system provides another quality solution that we can now offer to municipalities nationwide while minimizing social, environmental and economic impact through the trenchless approach."
NSF 61 certified RS BlueLine, licensed to IPR, is approved for the renewal of all municipal pressure pipe systems 6-inch diameter and larger, including drinking water mains, transmission lines and force mains. The system features custom formulated Dow® epoxies and meets Class IV AWWA requirements for a fully structural renewal of the existing pipe. "We believe the alliance between Dow and RS Technik, combined with our installation expertise and national presence, will accelerate the development of the water line rehabilitation market - which we all know is in great need of attention," added Joe Cutillo, President and CEO of IPR.
IPR is a national leader and provider of underground rehabilitation solutions with offices in six states throughout the United States, including CA, GA, FL, MI, TN, and TX. Licensed in over 25 states, IPR uses the latest technologies in the industry - placing high emphasis on trenchless and environmentally friendly pipe and infrastructure rehabilitation solutions.