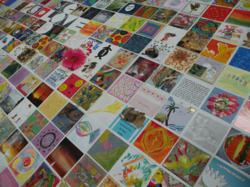 ...For peace will join you there, simply because you have been willing to let go the limits you have placed upon love, and joined it where it is and where it led you, in answer to its gentle call to be at peace.
Wisconsin Dells, WI (PRWEB) July 10, 2012
With the rapid approach of September 14, the herald of the global observance of the ten days dedicated to International Forgiveness Week and Weekend of Perfect Peace (September 14 -23, 2012), A Course in Miracles International continues to extend an invitation to everyone everywhere to participate in the joyful creation of the Peace Mosaic.
The Peace Mosaic, a representation of a single dedication to peace, is a magnificent, colorful, ever-expanding collage, comprising thousands of four-inch square pieces of card or other material on which are written, drawn, painted or glued individual pledges for peace, made by ordinary men women and children from all over the world.
According to Event Coordinator and Teacher of God, Nancy Reid, "Participation in creating this beautiful ever-expanding mosaic symbolizes an individual heartfelt desire for Peace, and rekindles an ancient memory of true union and liberation. I can't express it any better than Jesus Christ does in the following passages from A Course In Miracles:"
"'Everyone has experienced what he would call a sense of being transported beyond himself. This feeling of liberation far exceeds the dream of freedom sometimes hoped for in special relationships. It is a sense of actual escape from limitations. If you will consider what this "transportation" really entails, you will realize that it is a sudden unawareness of the body, and a joining of yourself and something else in which your mind enlarges to encompass it. It becomes part of you, as you unite with it. And both become whole, as neither is perceived as separate. What really happens is that you have given up the illusion of a limited awareness, and lost your fear of union. The love that instantly replaces it extends to what has freed you, and unites with it. And while this lasts you are not uncertain of your Identity, and would not limit It. You have escaped from fear to peace, asking no questions of reality, but merely accepting it. You have accepted this instead of the body, and have let yourself be one with something beyond it, simply by not letting your mind be limited by it.
"'This can occur regardless of the physical distance that seems to be between you and what you join; of your respective positions in space; and of your differences in size and seeming quality. Time is not relevant; it can occur with something past, present or anticipated. The "something" can be anything and anywhere; a sound, a sight, a thought, a memory, and even a general idea without specific reference. Yet in every case, you join it without reservation because you love it, and would be with it. And so you rush to meet it, letting your limits melt away, suspending all the "laws" your body obeys and gently setting them aside.
"'There is no violence at all in this escape. The body is not attacked, but simply properly perceived. It does not limit you, merely because you would not have it so. You are not really "lifted out" of it; it cannot contain you. You go where you would be, gaining, not losing, a sense of Self. In these instants of release from physical restrictions, you experience much of what happens in the holy instant; the lifting of the barriers of time and space, the sudden experience of peace and joy, and, above all, the lack of awareness of the body, and of the questioning whether or not all this is possible.
"'It is possible because you want it. The sudden expansion of awareness that takes place with your desire for it is the irresistible appeal the holy instant holds. It calls to you to be yourself, within its safe embrace. There are the laws of limit lifted for you, to welcome you to openness of mind and freedom. Come to this place of refuge, where you can be yourself in peace. Not through destruction, not through a breaking out, but merely by a quiet melting in. For peace will join you there, simply because you have been willing to let go the limits you have placed upon love, and joined it where it is and where it led you, in answer to its gentle call to be at peace.'"
A video about the Peace Mosaic can be seen and downloaded on both the Peace Mosaic website, (http://www.peacemosaic.org), and the website of International Forgiveness Week and Weekend of Perfect Peace http://www.forgivenessweek.org/videos/peacemosaic.php and on YouTube
International Forgiveness Week and the Weekend of Perfect Peace will be observed worldwide on September 14 – 23, 2012.
For the ten days, A Course In Miracles International will hold special celebration events at the Miracles Healing Center in Wisconsin Dells, WI and in affiliate centers around the world.
The Peace Mosaic will be presented to the global community in a special ceremony on September 21, the United Nations International day of Peace.
For more information about all planned events, and how you can participate, visit http://www.forgivenessweek.org/events.php.
###