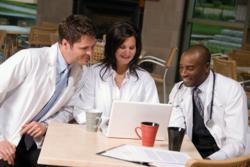 There are only two kinds of hospitals: those who have embraced Lean as a primary method for improvement, and those who will.

- Lean Hospital Group
Boulder, Colorado (PRWEB) July 11, 2012
Leonardo Group Americas LLC is pleased to announce the launch of its "Introduction to Lean in the OR" online training course. This is a 15-lesson course designed for the busy clinician that covers all of the basic elements of Lean in an OR environment.This course is of special interest to nurses as it is an accredited course that earns them 7.25 Contact Hours (CEUs). The lively format includes hands-on engagements and online knowledge checks at the end of each lesson. A full description of the course is available at http://www.eLeanTraining.com, a Learning Management System (LMS) website.
Upon completing this course, staff will be well equipped to participate in and lead Continuous Improvement projects based on Lean principles in hospital OR departments and the entire hospital. The application of Lean methods, originally developed in manufacturing, is now a requirement for hospitals, and one of the keys to controlling spiraling healthcare costs. Being able to take the course online is a benefit for hospital staff, with access to the course material 24/7.
Leonardo Group Americas LLC is a leader in the application of Lean methods in hospitals. Lean is best known in manufacturing companies like Toyota, but it increasingly is being adapted by hospitals in the US and in many other countries. The principals of the company, Richard D. Rahn and Gerard Leone, are the authors of several books on the subject of Lean in hospitals, including Lean in the OR, Supplies Management in the OR, Quick Changeover in the OR, Value Stream Mapping in the OR, and Lean Training Games in the OR.
This course is being provided through an educational partnership between Corexcel and Leonardo Group Americas LLC.
Corexcel designates this activity for 7.25 Contact Hours.
Corexcel is accredited as a provider of continuing nursing education by the American Nurses Credentialing Center's Commission on Accreditation.
It is the policy of Corexcel to ensure fair balance, independence, objectivity, and scientific rigor in all programming.
In compliance with the American Nursing Credentialing Center (ANCC), it is the policy of Corexcel that faculty disclose all financial relationships with commercial interests over the past 12 months.
Richard D. Rahn and Gerard Leone have completed a Conflict of Interest form and have no conflicts of interest to disclose.